IN UZHHOROD IT WAS OPENED THE EXHIBITION TO HELP THE FRONT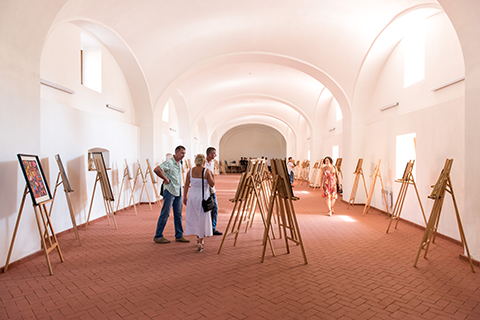 On August 11, 2017 it was opened the sixth exhibition of art works "For Fighters from Artists" in the Uzhhorod Cultural and Historical Centre "Owl's Nest" within the project "We Will Win ThanksTo That". The exhibition, arranged to raise funds for the volunteer battalions, has already visited several cities of Ukraine.
The regional centre saw the exposition thanks to the group of volunteers from Lviv. In Uzhhorod the public organization "Karpatska Sich", the organization of the ATO members "United by War", and the Movement for Transcarpathian Military Support and Volunteer Ukrainian Corps "Right Sector" joined the project.
The number of exhibits is constantly changing, since the main goal of the project is the sale of works to help the front. About a hundred works of 60 artists were brought to Uzhhorod: here is a rich collection of icons, paintings, graphics, stained glass, ceramics and even artistically decorated cartridges. To the viewers' attention there are several installations, as well as - the icon, which was during the Maidan demonstration with the whole Ukraine.
The co-organizer of the exhibition Serhii Kolodka says that at one time he decided with his friends to help the front in the way they are able to do it – with the icons, that they create. "Everyone has his own weapon, with which he can fight, we have a brush for this," says Serhii. – During the project we managed to raise UAH 150,000 and soon we will buy a thermal imager for volunteers. "The project was expanded; not only the masters of iconography offer their works now. Transcarpathian masters couldn't remain indifferent: thus, among the works you can see the pictures of Transcarpathian artists – Vitalii and Liubov Slobodska, Vasyl Dub, Yaroslav Dulenko, Lesia Pryimych, Taras Usyk and others.
Organizers of the exhibition will hold the lottery with the valuable exhibits and provide a discount on the day of its closure. The exhibition "For Fighters from Artists" will last till the Independence Day – August 24, 2017.
Text: Kseniia Shokina
Photo: Robert Dovhanych