The exhibition of Eduard Prykhodko favourably impressed the residents of Kropyvnytskyi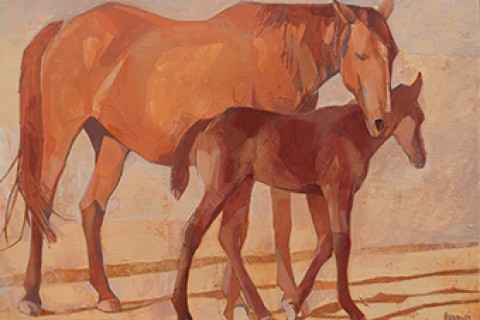 These days in the gallery "Yelisavethrad" (Kropyvnytskyi), it was held an exhibition of the Transcarpathian artist Eduard Prykhodko "Subjective Reflections" with the support of the Art & Culture Foundation Brovdi Art. Visitors left a lot of positive reviews, which we are happy to share with you.
"It is interesting and exciting – how will a new spectator perceive me, how will he react, will it be possible to establish a dialogue? Can he feel what I wanted to say with help of my work?" – Eduard Prykhodko shared his experiences before the exhibition.
As it turned out, the exhibition pleased the audiences. Thus, in particular, in the guestbook of the "Yelisavethrad" gallery, where the exposition was held, visitors wrote:
"It's unusual, the artist has his style."
"I really liked it. I saw such a style of painting for the first time."
"This exhibition is very unusual and new for me. Most of all I liked a lantern, as well as the artist's horses."
"The works are delicate, unusual, ghostly ..."
"I adore Transcarpathia, I expected to enjoy the scenery of the Carpathians, but I was offered a completely different genre – it did not make me regret! Horses are brilliantly painted. But the best is a bicycle – elegant and plastic, like a ballerina. Strict colours. I would like to come to Uzhhorod!"
"The exhibition was lovely. Paintings with a stencil are very impressive."
By the exhibition in "Yelisavethrad", we are just starting to get acquainted art connoisseurs of Kropyvnytskyi and other cities of Ukraine with the creativity of the Transcarpathians. In the future, it is planned large-scale exhibitions of the Transcarpathian artists, as well as participants of the Student Contest in Painting "Silver Easel" in the capital.
© Art & Culture Foundation Brovdi Art