Album of watercolours of Transcarpathian artists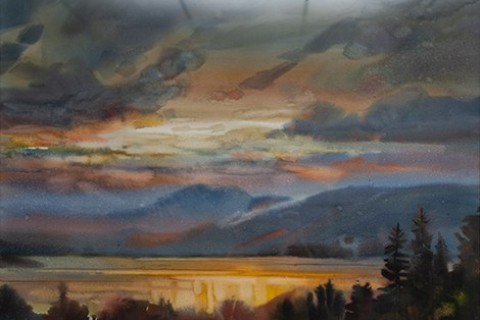 Recently in the premises of Transcarpathian Academy of Arts it was presented an album of watercolours of Transcarpathian artists for a wide circle of Transcarpathian art admirers. The publication was published at the publishing house Vydavnytsvo Oleksandry Harkushi.
On the 160 pages of the album, there is brief biographical information about each artist, as well as several of his works. In general, the whole edition contains about a hundred art works executed precisely in the technique of watercolours. Oleksandra Harkusha and Vasyl Skakandii prepared the album. And art historian Mykhailo Syrokhman wrote the preface.
As indicated in the annotation to the album, the appearance of a publication dedicated to the watercolours of Transcarpathian artists is not accidental. It shows a flash of interest in a unique type of painting, has long been undervalued both by a wide audience and in the artistic environment. Watercolour attracts contemporary artists with a wide range of possibilities, originality of work, lyrical sincerity, improvisation, so it is not surprising that watercolour has been gathering more and more supporters around itself lately.
Transcarpathia has always been famous for its original and colourful art and can be proud of such coryphaei of Transcarpathian painting as Fedir Manailo and Andrii Kotska, who created masterpieces of watercolour works. Many famous painters turned to the watercolour technique to create sketches for future works and have a high artistic level of watercolour works, but the main tool of their creativity was the choice of oil or acrylic paint."
The album presents both well-known and unknown watercolours of classics and contemporary artists of Transcarpathian painting, whose works are beautiful artistic documents of their time, epochs. Presented are works of such artists as Liudmyla Korzh-Radko, Ihor Paneiko, Andrii Kotska, Ferents Seman, Fedir Manailo, Vasyl Skakandii, Vasyl Hanhur, Oleksandra Harkusha, Odarka Dolhosh-Sopko, Anton Kashshai, Anton Kovach, Vasyl Kohutych, Anna Landovska, Volodymyr Mykyta, Michael Peter, Yulii Stashko, and Petro Feldeshi.
The album publishers express the hope that everyone who will get acquainted with the publication will discover the unique painting with watercolours, will appreciate the expressive possibilities of this technique, will see works that will surprise and interest.
Photo: Nataliia Pavlyk
© Art & Culture Foundation Brovdi Art