Serhii Kireiev: "The artist is responsible for the issue he raised"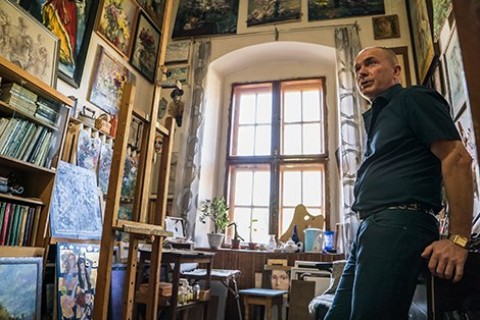 Most of his works are completely different from typical examples of the Transcarpathian school of painting. He is an individual, not like others. Director of the Children's Art School named after. M. Munkácsy, an artist Serhii KireIev told about how an artist creates a dialogue with the viewers and what, actually, to speak to them about.
– Serhii, your works are atypical examples of the Transcarpathian school of painting. Even local landscapes differ in the manner of execution…
– Transcarpathian school is special. It is interesting, because of its variety. But if we all look like Bokshai, Erdeli or like some of our contemporaries, then it will be somehow one-sided. As a rule, mountains and nature are bought in the first place. But I do not want to pursue thing that are popular. The one who focuses solely on the demands of the consumers, but not on his own preferences loses the opportunity to create such a work that will be a dialogue with society. My creativity is specific to the fact that the main work is an art school. I'm happy when I have time to stand at the easel, play with the details, pay attention to something, enjoy the freedom of creativity.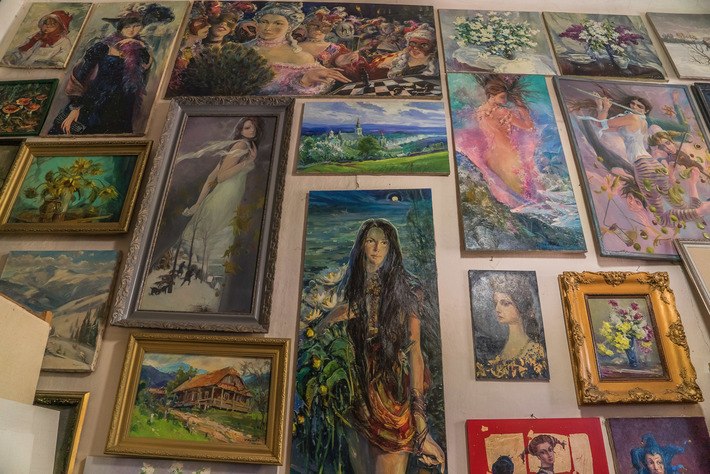 – And how did you start making art, painting?
– This is a hard case. It came in my life so organically that I understood: I could not live without it. I needed it. Some topics burn out because there simply isn't enough time – to be alone with easel is an expensive pleasure. I was always keen on painting, but I was doing other things…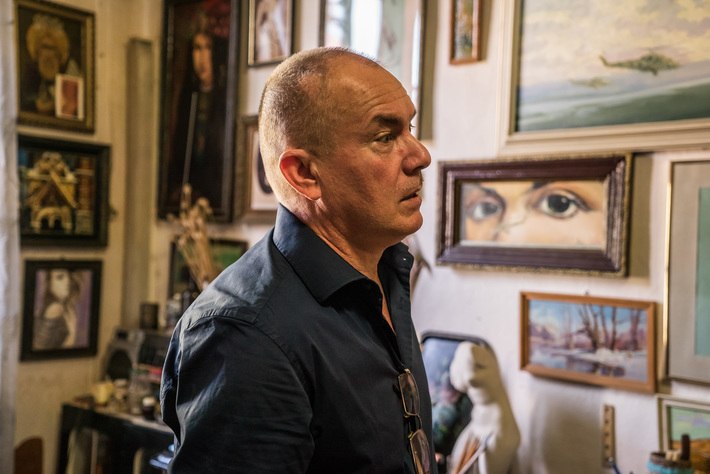 – And what did you do?
– It's a long story… If you noticed, I have a military theme here. In the Soviet times, my mother was told that her son would not enter the Uzhhorod University, because of the wrong origin.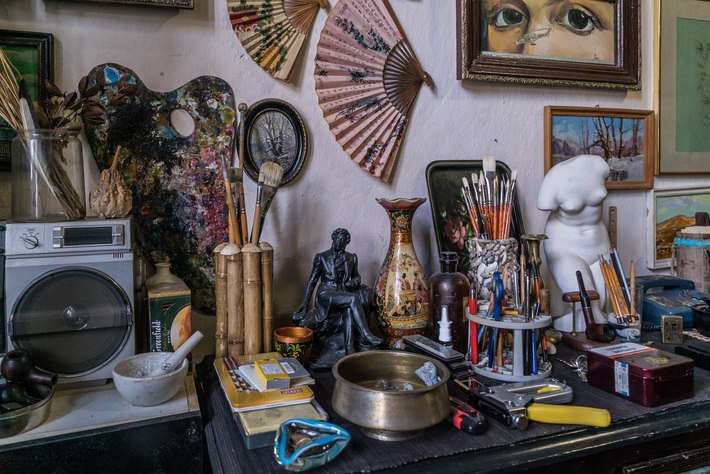 I decided to go to the army, then I entered the aviation school. I finished it and for 10 years I was flying a helicopter MI-24. Then I entered the Faculty of Arts of Ivano-Frankivsk University named after V. Stefanyk. However, I was fortunate enough to visit the plein airs with Vasyl Burch and Vasyl Tsybere – wonderful Transcarpathian landscape painters and got experience from them.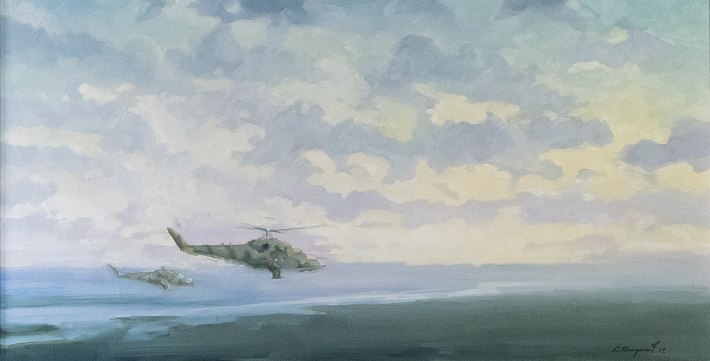 - You paint not only the Transcarpathian landscapes, don't you?
– These paintings are created by personal impressions and black and white photographs. Hindukush is the mountains in Afghanistan. I have never seen such rocks! And when I saw it – I immediately realized that once I would paint them. I took some photo and several sketches and embodied them on the canvas later.
I have a picture of Asia and the military helicopters that land. I spent a year and a half on the "excursion" in Kandahar (Afghanistan - Aut.), there is the Valley of the bridegrooms. From the distance, it seems there are stones, but they are skulls! How many young guys, married and unmarried, died there? This is a 'chopper' of the poorly system...
– Is the theme of the war in Ukraine depicted on your canvases?
– This is such a painful and difficult topic, one cannot just quickly draw a soldier somewhere on the barricades. I would like to show a detailed work that would influenced the consciousness of the viewers… But for this, an image must be formed. I have an anti-military theme: a young girl writes on the wall "No war". However, pacifist demonstrations alone are not enough to fight against war. I think the artist must take responsibility for the topic he violates. If it is about war, then it should show its horrors, rather than to paint vivid colours on how to die well on the barricades of Paris. The horrors of bloodshed are not portrayed with bright colours. This topic should be approached, it should be an opinion, not just flowers.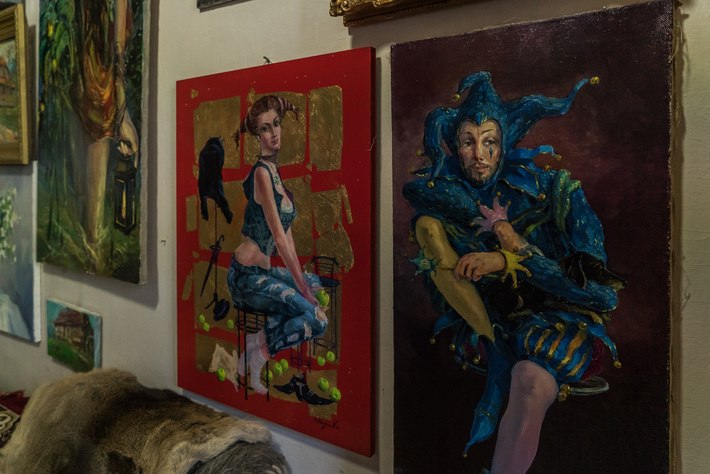 – Do you often raise social issue?
– It prevails. I am interested in the topics of "a man and the world", "a man and society", "a man and art". I have a work on the topic "All the world is a stage." Or a ballerina, who got a pea in pointe shoes, but she completely gave herself to art, so only after the performance she understood what was disturbing her, and she fell exhausted. A man is a theme for art. Humanistic ideals should dominate in creativity and I try to get closer to this.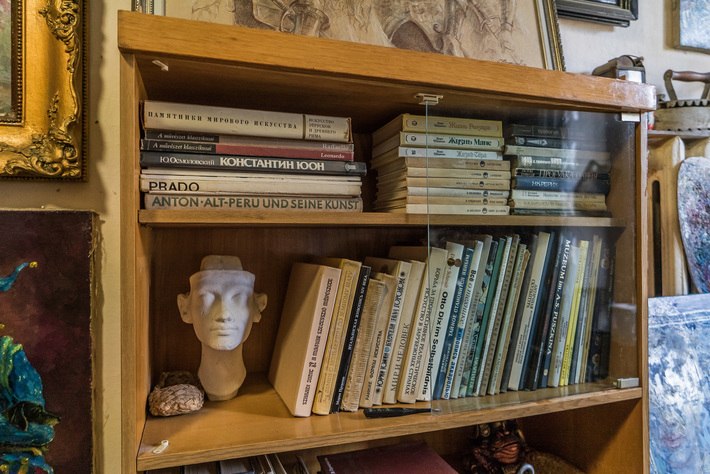 – Your paintings are more like a fantastic world…
– I let myself experiment. It happens that the characters of paintings are suggested by life itself: here are the high school students – modern rebels, and here is Marka, a healer – the women form Hulkyvyi village, which I heard about from retellings. They say she treats with herbs. I often see some plots, images, which then I transfer into the picture.
– Do you have a definition of your own style?
– I am more interested in the modern direction of fantasy than abstraction. A kind of realism on the verge of fall. This is some other fantasy and real world. I am experimenting: why not to try this? The image is just in the head. Something inspires sometimes. Morricone's music influenced me so much that I wanted to portray girls with musical instruments flying in the air. It inspires and it seems that everything around is weightless.
– How do you understand that you work has already been completed?
– To work on a picture is like a song. If it's hard, why should I paint it? When interest is lost, it becomes uninteresting, I cease to work on it. It is happens that topic just burn out. It happens that the time will pass, the colours will dry up, and everything will dry up in my head as well. Then you think: "Who needs it?" If you need it, it means someone needs it too. And if the artist does not need his works, then they should not be definitely be shown to someone.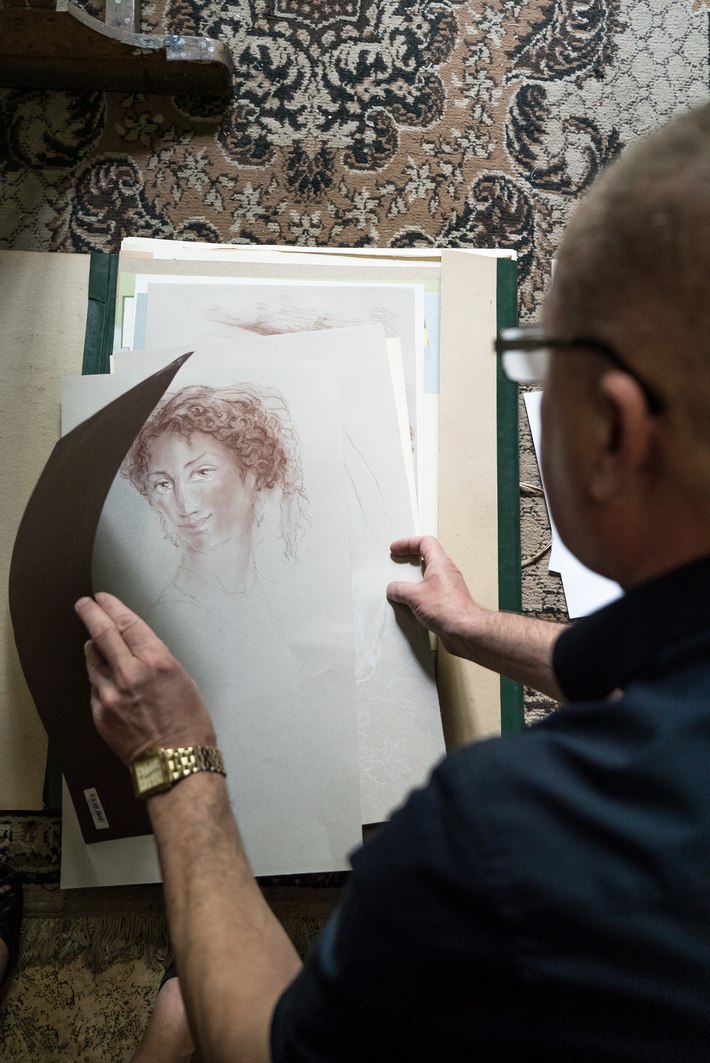 Text: Kseniia Shokina
Photo: Nataliia Pavlyk
© Art & Culture Foundation Brovdi Art