Roman Pylyp: "I've never tried to be fashionable or important. I tried to follow the internal vector..."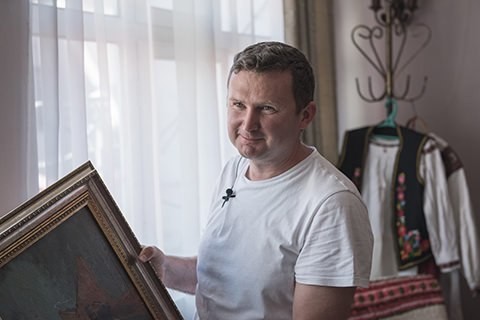 A PhD. in History of Arts, Associate Professor of the Department of Decorative and Applied Arts of the Transcarpathian Academy of Arts, laureate of the Regional Prize named after Y. Bokshai and A. Erdeli. This is all about Roman Phylyp – a talented and diverse Uzhhorod artist!
He is the curator of numerous art exhibitions, in particular, he launched the annual exhibition-contest "The World of Pysanka", which aims to study and preserve the traditions of Pysanka of Transcarpathia. Participant in numerous plein airs and exhibitions in Ukraine and abroad. All this is the result of painstaking, but fruitful work, about which Roman willingly talks. We had quite an interesting conversation Roman…
"A significant role for each artist is played by teachers who not only teach but also develop an aesthetic taste"
– Roman, when did you start painting? Do you remember your first works?
– Like all children, I painted in my childhood. I remember that at the age of 5 or 6, I even sent one of my works to a television contest. Probably, at that time I did not think that it would be taken into account, but quite by chance I saw my work from the TV screen during the "Evening Fairy Tale". I was so excited! In general, I created, sculpted, invented something during my school years – in a word, I was always in the creative process. Nevertheless, I made a deliberate choice when I first took an easel at preparatory courses of the Uzhhorod School of Applied Arts named after A. Erdeli. I plunged into a new creative environment that prevailed there! I was glad to have new acquaintances, I felt that that one thing unites us all is art. My first teachers were V. Petretskyi, Y. Bachynskyi, T. Chuvalov, and others. From that time, I knew that I would be an artist.
– What are you working on while studying? What or who did you admire?
– Of course, in educational art institutions, there is a programme that ensures your professional growth. These are the specific tasks, but I constantly tried to experiment with techniques and materials. At the 3rd year of study, I was fond of plein air painting. There was no obstacle for me to go out to paint on the street in the rain or snow, wind or burning sun. When I was studying in Lviv, I got up at 5 am, went to the High Castle to portray the awakening city. At that time, many of us read a French writer Henri Perruchot. His books about Van Gogh, Gogen, Cezanne formed my creative credo. Art for the sake of art, all for the sake of art – so I thought. The training period is important, it's like the foundation of the house. At senior courses, you get a feeling that you can create something meaningful. It is important to feel it in yourself, to believe in yourself!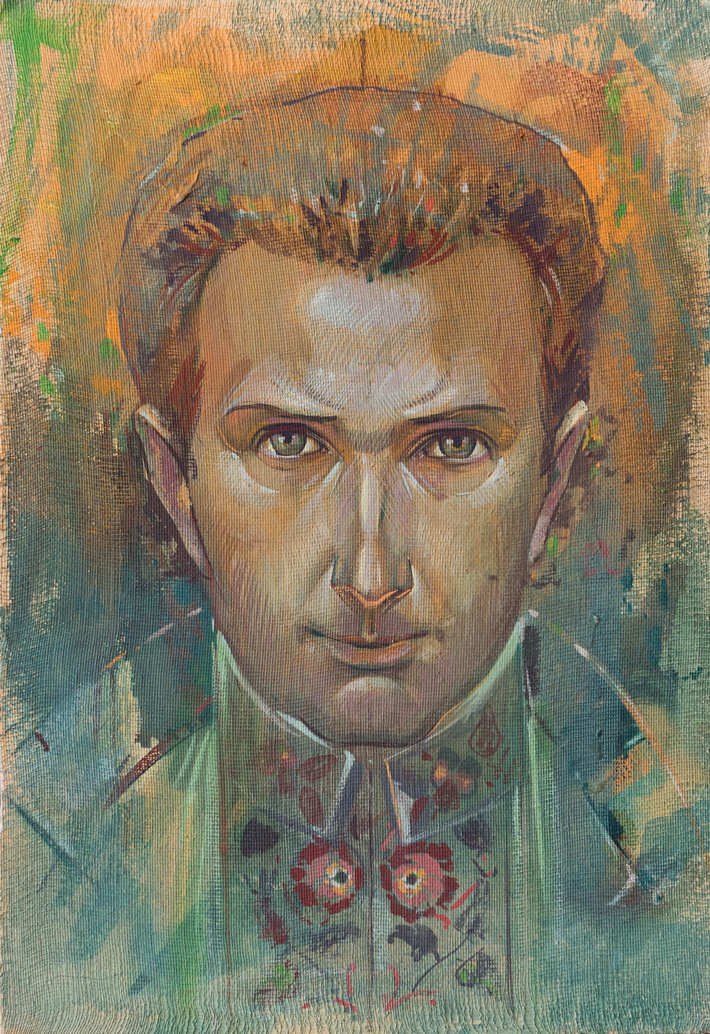 – But, obviously, not only you feeling but also knowledge, self-education, outlook are important, aren't they? For the artist, it is very important to be diverse, to learn the world from different angles in order not to stay in a certain framework…
– Certainly. Studying at the Lviv Academy of Arts opened new horizons for me. The city itself educates because Lviv is the cultural capital of Ukraine. And I visited museums, exhibitions, numerous cultural and artistic events! Once I came to an open lecture on icon painting – and felt that it was mine. I began studying literature, copying the icons, studying the history of arts, etc. After all, the Ukrainian painting originates from the icons! I liked to analyse how the stylistics of icon painting developed over many centuries in Ukrainian painting. As to studying, let me add that a significant role for each artist is played by teachers who not only teach but also develop aesthetic taste. Each of those fate brought me together with, gave me some other impulse. I understood everything at a first glance. It was in Lviv that I was formed as a personality, an artist. Recent work of the student period is not only the search for my own style but also the search for himself in the universe, in art.
"When you focus on some type of audience, you can lose yourself"
– So what styles did you try yourself in? What techniques did you use?
– Oh, and I've never chased to try everything – whether all the styles of technology! I went from classical academic education by virtue of tradition to the search for my own contemporary language. I always tried to follow the internal vector that is in me, which directs…
– What genres do you like?
– Today I paint mainly still life, landscape, portrait, sometimes I develop figurative compositions.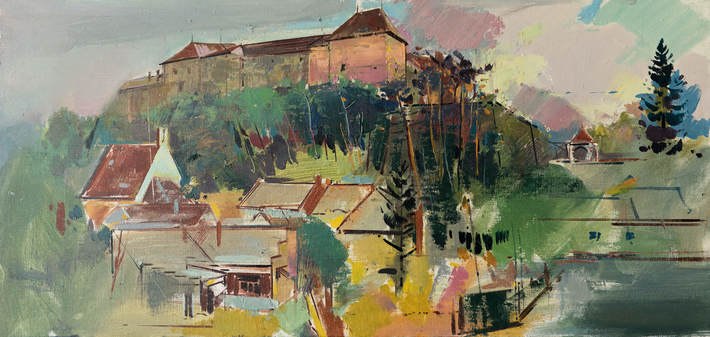 – Once, in my conversation with one artist, there was an assumption that everyone who came from Transcarpathia or works there are charged by the Transcarpathian school of painting, it seems to affect artists…
– It affects, because our region is unique, and painting school as well. In many respects, Transcarpathia is an "uncharted land". The past of the region, the wealth of culture led to the development of a series of paintings on ethnographic themes. I tried to understand the tradition deeply. In general, I am open to contemporary conceptual art because it creates meanings, analyses.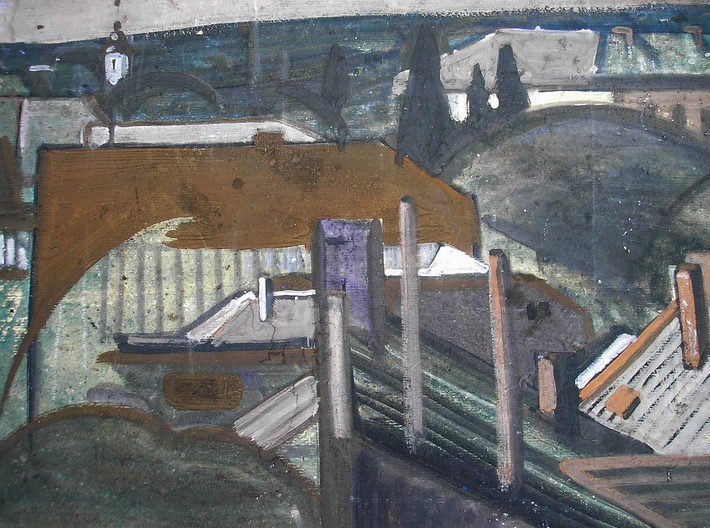 – What can inspire you except plein airs?
– How does the creative process go on? As for me, it usually takes two ways. It happens that you have some idea, you've seen something, read or visited the exhibition. And the idea does not give rest – it is formed until I pass it on to the canvas. However, there is another way – when you work, there are new ideas, new options, a new vision.
– But how exactly do you work?
– I think the second option because I like to paint from life: I look, comprehend, process – so I improve my work.
– Do you execute orders?
– Yes, but I do not like it, because a client often has no taste. And this constrains your creative will. And this is one of the problem parts of work – it is necessary to educate the viewers. I constantly face amateurishness in culture, I do not like unprofessionalism. There are fans of my painting, they are all friends of mine. It is necessary to paint, first of all, in the way that the author liked, and only then there will be those who appreciate it! It is in such works there is a share of us. When you focus on some kind of audience, you can lose yourself.
"I often paint Uzhhorod, I watch the city …"
- Roman, if to analyse your easel painting, then you have a lot of works on the urban theme…
- Yes, I often paint Uzhhorod, in general, I watch the city. Here, for example, in this house, where we are now, we have been living together with parents from the 80s. Somewhere in the 90s, I set up my own studio in the attic floor – here, as you can see, large windows, respectively, have magnificent lighting, which is an essential condition for the studio. From the attic, I often watch how the city changes. Here, for example, in one work (the artist shows a picture – Auth.) I depicted on the roofs of Uzhhorod – this was several years ago. Now look out of the window and see how much the city has changed. Unfortunately, there is little that is being created. It should be remembered that the environment affects us.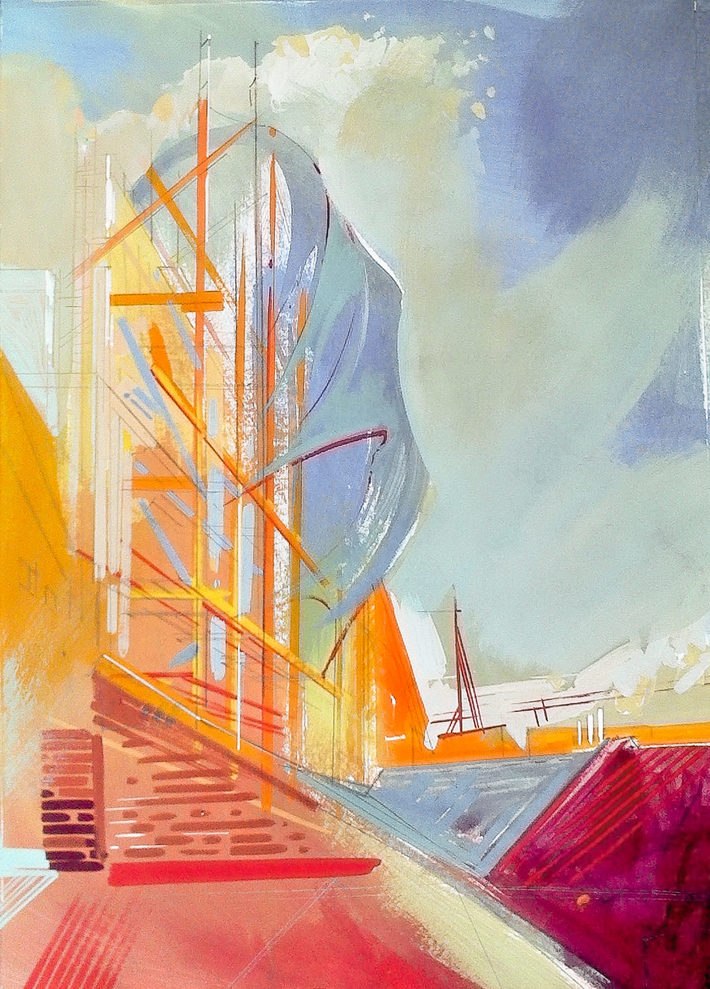 - Do you have a vision of Uzhhorod art future?
- In recent years, Uzhhorod has become an artistic city, and many art sites have appeared. There are numerous exhibitions, presentations! Styles and directions are also very diverse, and all this is very interesting!
- What do you think is missing?
- I think that there is not enough communication between the artists, sharing of ideas. In contemporary, conceptual art, I like the fact that artists are looking for content and more responsive to the demands of time. The older generation is accustomed to another model, more static, plein air. I also like to go to the plein air, to communicate with artists from all over Ukraine, but these models can be combined.
"I believe that folk art is a huge treasure, a source of outrageous ideas"
– You have many pysankas and embroidered shirts in the studio. Do you collect them?
– I'm not a collector, but I have some traditional shirts from several parts of Transcarpathia. I am currently engaged in the reconstruction of pysanka. In 2011, I published a monograph devoted to the traditional embroidery in Transcarpathia. In general, folk art has its secrets, its means of artistic expression. What is the basis for other forms of art?
– And where do you take pysanka?
– I've been interested in pysanka for a long time. In general, Transcarpathian pysanka is extremely rich. In Transcarpathia, scientists distinguish four ethnographic groups – Hutsuls, Lemky, Boiky, and Dolyniany. Each ethnographic group is characterized by local peculiarities, which is also reflected in the region's embroidery and pysanka.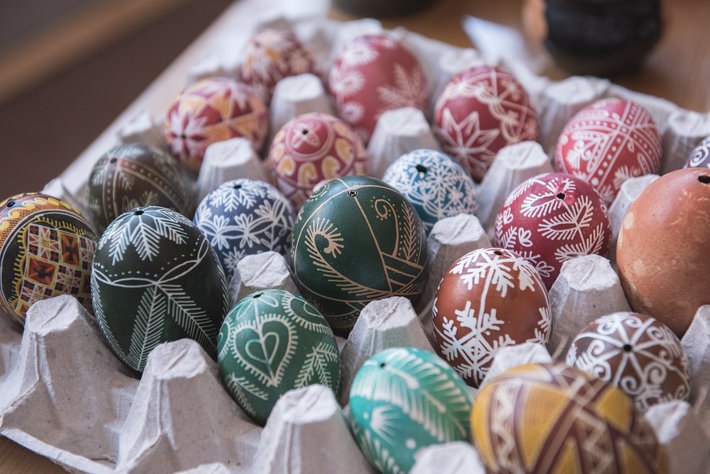 – Can you tell us more about it?
– It is very valuable that we know where these artworks come from. For example, pysanka from Bohdan village of Rakhiv district has a geometric pattern. Pysanka of Tiachiv region is characterized by a white pattern on a red or brown background, they are the most archaic in the province. You will not confuse the colourful pysanka on a green, red, brownish background, painted with white lace pattern from the Perechyn region. In Turia Remeta village, traditions of pysanka are still preserved, and every hostess tries to put three of such pysankas in her Easter basket. On the patterns, you can see solar signs, roses, rivers, and trees. But Lemko's pysankas have two or three colours. Their pattern of a teardrop-shaped form was formed by floral motifs, in contrast to the Boikos ones, linear patterns, they were formed by a special pen.
– The traditions of pysanka seem to be practically lost…
– There are a lot of ways to decorate pysanka, which are now decorated by the hostess, but they are not authentic, there are very few traditional. Pysankas can be found in the valley of the river Turia, which are made in the same way as a hundred years ago, but in many villages of Transcarpathia, this tradition is lost. Therefore, I search for patterns of pysanka in periodicals – in the magazines of the 20th century, in old postcards devoted to pysanka. Pysanka is poorly preserved because it is fragile and rarely "lives" until next year, but with its extremely valuable ornamentation and artistic system, the way the masters combined colour, organized composition on the field, and the like. Craftsmen did not finish art schools, but they have a lot to learn from because it is also a real art. By the way, in contemporary painting, we can follow the same principles of the combination of colours and rhythms.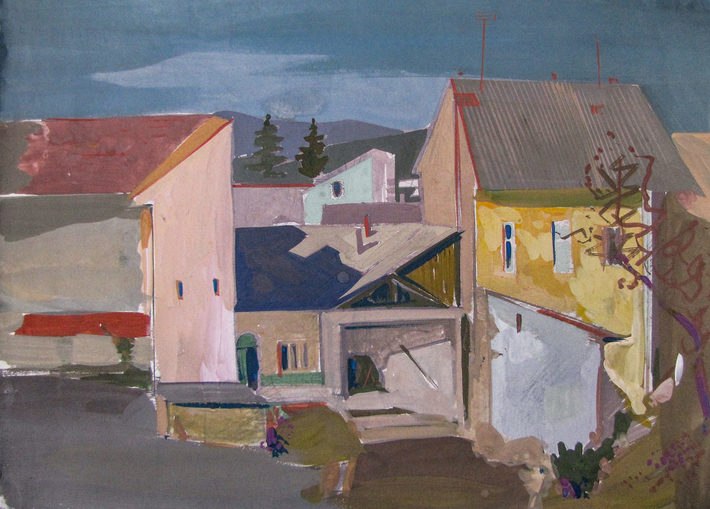 – You are so fascinating! I can conclude that folk art plays a significant role in your life!
– Yes, because in folk art there is poetry, fantasy, worldview, thinking of our ancestors is reflected. As an artist I am interested in the laws of beauty: why is it beautiful? What are the principles of constructing a composition? How do they achieve such artistic expression? The study of pysanka is just one part of what I am doing, but I really like it and it helps in art. To all, I started an annual exhibition-contest "The World of Pysanka", which aims to extend and preserve the traditions of Pysanka. In general, I believe that folk art is a huge treasure, a source of outrageous ideas.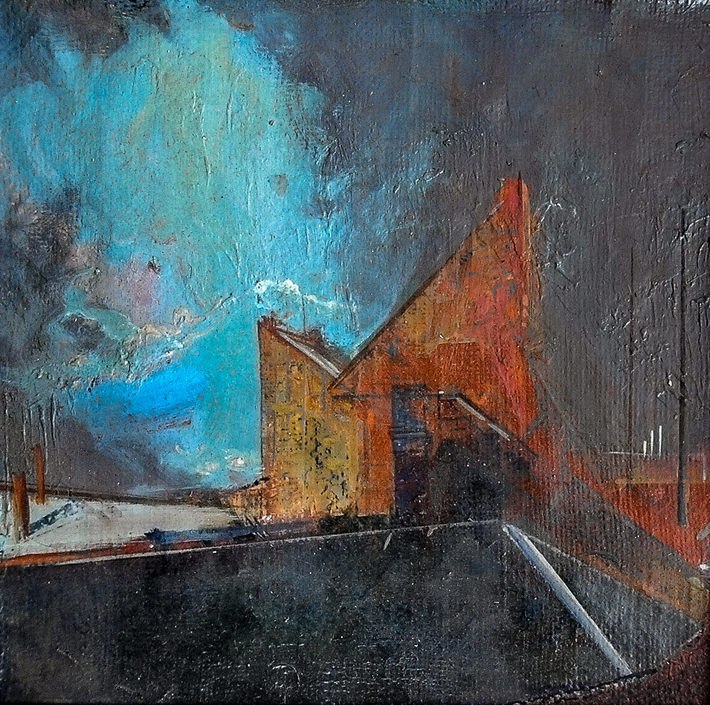 – Roman, thank you for the interesting conversation, success in future projects!
Text: Nataliia Petervari
Photo: Robert Dovganych
© Art & Culture Foundation Brovdi Art