"CARICATURES" BY ADALBERT ERDELI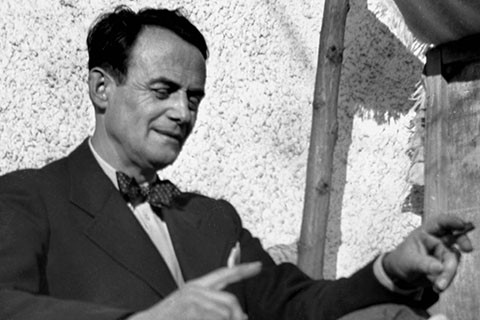 On 22 November 2017, in the exhibition hall of the Transcarpathian Regional Art Museum named after Y. Bokshai it was held the presentation of the unique edition – "Caricatures" by Adalbert Erdeli.
In the album, the artist for the first time appears as a master of the caricature. The annotation of the publication states: "A significant collection of portraits, which the artist left behind, attests to Erdeli's unrelenting interest in the genre, which was admired by world-famous masters."
According to the authors, A. Erdeli enjoyed caricatures since the mid-20s, he was a fun person and liked joking. He painted caricatures with a lead or carbon pencil on sheets of paper. Based on the stories, the artist constantly walked with a notebook in his jacket pocket. If by any chance he had none, then he drew on whatever's to hand – tickets, cardboard, even on the napkins. He was able to instantly capture the nuances of a stranger's face and depict it grotesquely and wittily. The works impressed with their expressiveness, mastery, lookout and irony.
A selection of caricatures was formed from the funds of the Transcarpathian Regional Art Museum named after Y. Bokshai and the collection of Mykhailo Meisarosh, who, together with the publisher Oleksandra Harkusha, is the author of the album. In general, the book contains about 100 works by the famous master.
"The idea of this book has matured for a long time," the publisher Oleksandra Harkusha said. And right now it is very relevant. Since caricatures are the powerful humorous weapon. They allow you to peer into oneself and respond others. This is a sincere humour, which depicts not physical, but mental and emotional defects with warmth and kindness. And it's better to draw charges and demonstrate these disadvantages of people and society than to fight and quarrel with each other. These charges are Erdeli's smile to us through the times."
According to O. Harkusha, caricature is widely popular in Europe and the USA. Not every artist is able to create them, but A. Erdeli could and did it quite skillfully.
As noted by the art historian Mykhailo Syrokhman in the preface, the edition is very important for even better acquaintance not only with talent but also with the inner world and the external circles of the outstanding artist. The album also contains the contiguous and delicate metaphors of A. Erdeli in Ukrainian and English.
The album was released with the support of the cultural administration of the Transcarpathian Regional State Administration.


Text: Denys Fazekash
Photo of the caricatures and album provided by Oleksandra Harkusha