Petro Haiovych: "There are such works sometimes that I do not believe I made them myself. That's the adrenaline"!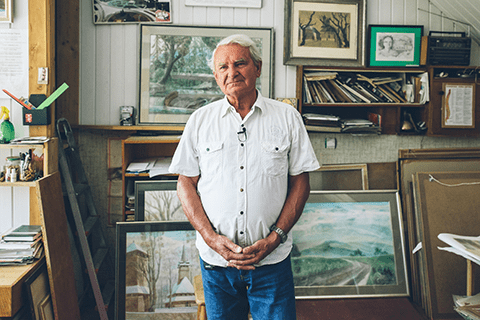 A cosy house of the watercolour artist and architect Petro Haiovych is hidden in the middle of the green garden, just a few hundred meters from the centre of ancient Uzhhorod. At the entrance to the courtyard you can see well-loved bushes and vines, grown here by the owner. 
– How did it happen that you, a native of Transcarpathia, went to Horlivka for getting education? Did you start your creative career there?
– It turned out that at the time when I finished school there was a decree according to which first it was necessary to work and only then to acquire education. So, I got a job in Horlivka. There I found an art studio in the House of Culture and studied at Havrylo Matviienko. Every Saturday I went to the country and drew etudes. There I began to grow professionally as an artist.
I worked as well: it happened that at night I went down the mine and in the morning I came to the studio to draw. Subsequently, the mine management advised me to study at the Mining Institute in the present city of Dnipro.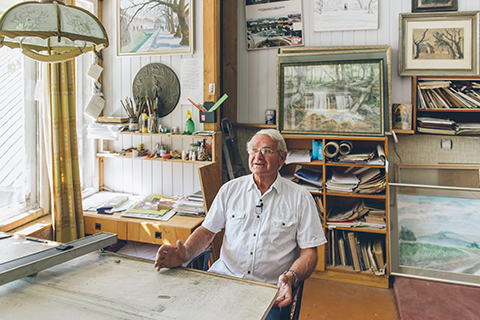 – What about your first works?
– I drew them with a pencil. These were portraits. I remember, I was somehow very impressed by a handsome year-old man, who was painted from life. As a result, I made a drawing for one evening. By the way, when I entered the Institute in Dnipro, I immediately found an art studio there. Mykhailo Pushnoi taught in it. He was an incredible artist. However, I did not manage to complete my studies at the Mining Institute: once a geometry teacher found out that I was drawing and asked to bring her some works. I brought, and heard back in response: "What are you doing here? How did you get here? It's a crime"! And, I did not understand. I studied well and I passed all the entrance exams with excellent mark. Then a senior lecturer said: "You have to study for an artist, you have a talent"! She advised me to join the Civil Engineering Institute, "architecture" speciality where the student enrolment just began. Thus, I enrolled for the architecture faculty. At the same time, I was studying in the art studio for 5 years.
– How did you get to Uzhhorod?
– I received a referral: I was offered to become the chief district architect in Khust, Volovets village or a deputy architect in Uzhhorod. I chose the latter. So, I worked for 5 years. I was drawing at the weekends. Then, I got to the Art Fund, where I was even the chief artist for 5 years. I was fortunate enough to work when the following artists Kashshai, Bokshai, Sholtes, Burch, Sapatiuk, Brovdi worked …

– What did you design?
– The greatest project is the Orthodox Church in Khust - which is in the centre. And, the Orthodox Church in Vynohradiv village, there are 6 other churches in the districts. My work is also a monument to Voloshyn on the Uzhhorod quay, a monument to Shevchenko in Volovets village. Moreover, there are a lot of houses, as in fact I was earning by designing for all my life.
– Tell us about your studio: how did you build it?
– When I was engaged in architecture, I got an apartment. After 5 years I understood that I had to run from there: it's hot in summer and cold in winter. So, I decided to look for a house in exchange for an apartment. I was searching for a year, I travelled all the villages and when I found, I could not believe. This house, however, was in a deplorable state: without gas, sewage, but near the city centre. So, I remade everything, I destroyed the emergency part of the house and built another… And, when I retired, I realized that I still had to work, because the pension was ridiculous. I once performed a serious order and built a studio for money I earned, redone the roof: it turned out to be a bright, nice room. I've been working in it for 12 years.
– Do you spend a lot of time here?
– A lot. Here the muses are flying and my soul is singing.
– Are you engaged in painting or architecture now?
– I paint. And, I'm engaged in architecture - it's still my earnings. The artists starve now, since, unfortunately, there is no demand for painting.
– It seems that it's difficult to sell watercolours in general? Is it such a complicated technique?

– Recently I spoke about this with my colleague and agreed that watercolour painting is a constant work of emotions and brain. It's very intense, by the way, to achieve what you wanted. I do not know whether it depends on age, experience or something else, but one moment comes and the idea of a watercolour is constantly spinning in my mind. So, first I imagine the composition, make the lines of one colour. And then, I take watercolour and paint without even thinking, just watch the brush. It seems as if I'm depicting a photo of imagination. The main thing is that no one distracts me at this moment...


– What inspires you? Nature, music, book?

– My muse can be a beautiful woman who I saw and who amazed me. Or a waterfall, for example, a beautiful scenery. Of course, not everything can be depicted and therefore I constantly get stressed. Why? Because I constantly feel helpless before the powerful beauty that I see. All the time I compare and feel that I did not convey 10 or 20% of that beauty. As there are not so many opportunities in watercolour technique! And, this feeling constantly worries me! It's stressful. I will not say that it's negative - it's rather the adrenaline, strong and impressive. It is a constant struggle to increase opportunities to convey the beauty that you saw!
– And, did you work in other techniques?

– Once I worked with oil, I generally started with it, but watercolour, still, in my opinion, has greater potential. What makes it difficult? And, why are there so few watercolour painters? If you make a brush stroke, it's done, if you spoiled the stroke, you could not change anything. Therefore, there cannot be any inaccurate movements, because the colour is lost. But, with oil, for example, you can re-paint everything you have already created, change something, correct it. Watercolour does not allow this. And, a copy of such work cannot be done - it will be similar, but different. Therefore, this technique is complicated. But, when you master it, when you reach that level that you do not think and the brush moves itself - then the real miracle of creativity comes! It's hard to put those feelings into words.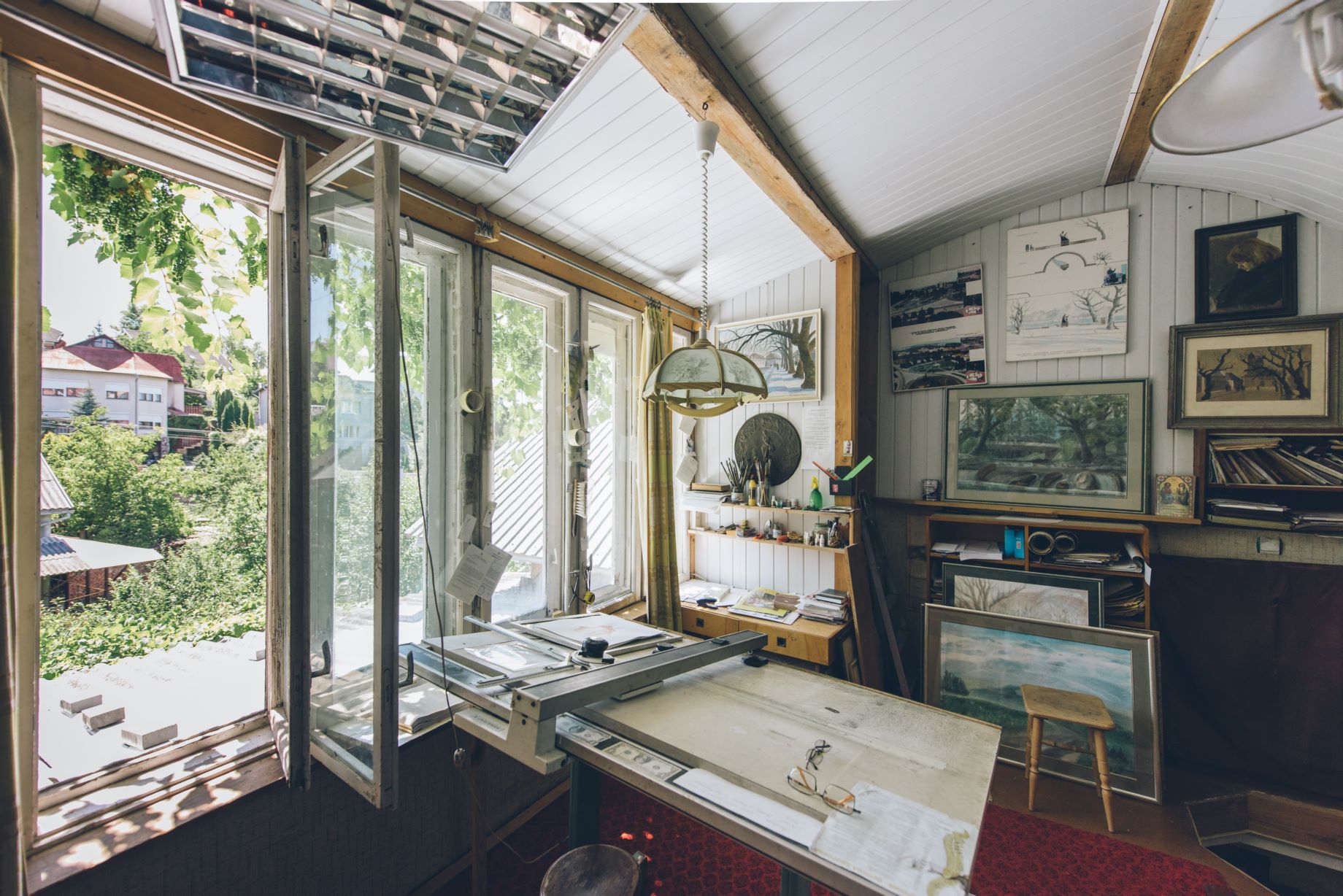 – What do you like to paint the most? Nature, a woman or what impressed you?
– It does not matter - everything is interesting in watercolour. There are such works sometimes that I do not believe that I made them myself. That's where the adrenaline, the most possible for a person!
Text: Nataliia Petervari, Denys Fazekash
Photo: Robert Dovganych