Olha Ladyzhets: "If you decided to achieve something in this profession, then choose a reasonable approach, but not your own ego."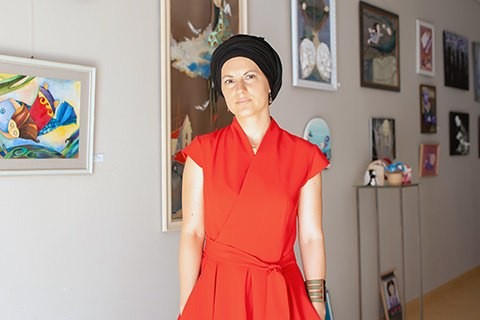 Olha Ladyzhets – a talented artist, ceramist, and despite the main speciality – a psychologist and pedagogue. Numerous Uzhhorod citizens know her, they admire her works, children and their parents adore her.
Olha teaches everyone – both those who have talent and those who just simply need human warmth or a friendly helping hand. Every conversation with this woman is like a breath of air that easily flows from one shape to another, giving birth to the new, interesting and exciting themes. And at the same time, you can watch for an infinitely long time how skilfully the artist creates another miracle that will become a favourite thing in someone's house…
Do you remember your first artwork? When did you start working?
I started painting thanks to my grandfather, it was he – the famous Transcarpathian writer Volodymyr Ladyzhets – who instilled a love for art in me. I painted my first work in oil at the age of 4, when I was with my grandfather at the plein air. He just suffered a heart attack and could not write with a pen, so he took up the brush. Although he was not a professional artist, it was such a wonderful hobby. I remember it well: I had a small easel and he had a big one; we went out in nature together and just painted a lot. And my first work was, accordingly, a landscape. After those trips, the whole house was full of works, both mine and grandfather's. All our walls were painted. At my home, when I became a mother, was the same situation – from the childhood my children used to see everything around being in bugs, butterflies, bright colours. And it was my grandfather who bequeathed to my parents that they let me study for an artist. If they had not done so, he would have never forgiven them!
And what did you want to be yourself?
I wanted to be an archaeologist, but I became an artist, because of my grandfather. And, frankly, I am grateful to him. He probably saw something special in me and told that I had to develop myself in this direction. Thus, at the age of 15, I entered an art college, where my mentor was Ivan Masniuk. His studio was attended by such black sheep like me, who probably did not have friends at school, but there, in the group, we got together. And that group, which was formed in 1995, still exists. I am grateful to the fate that I met those people. By the way, they all became artists, entered the academy and we are still all friends.
After graduation from the college, you entered Lviv Academy, didn't you?
That was an interesting story: On 1 September, I had a wedding, and on the 2nd I was already at the Department of Ceramics at the Lviv Academy in my first lecture. My husband took that well. We, of course, met once every two weeks, but he understood everything. For two years of studying at the Academy, there were a lot of impressions, vernissages. I had a great opportunity to exhibit my works. I had a studio with my friends near the High Castle, we were engaged in our creative activities, working after lectures, making ceramics and sold them. In such a way we earned money.
At the same time, during the student years, there was an opportunity to see how ceramic factories operated. I was at the Korosten Porcelain Factory (where I was offered the position of the artist), in Slavuta (I was also offered a position of an artist in the experimental workshop), the impressions were extraordinary! My works were appreciated even when I was still studying! It had a very positive effect, pushed me for work, creativity, development! And then I returned to Uzhhorod and it turned out that there was no work for me, that we, creative personalities, were not particularly needed to anyone. It was 2003, I was looking for any job to earn at least for bread. Then somehow I was offered to take a vacant position at the Centre for Scientific and Technical Creativity and I agreed. And this work was exciting! A lot of children came to learn from me, I found a common language with them, although I would say frankly, I was afraid of it. And now children are part of my life.
Olha, tell us about your creativity, where do you get ideas, themes? Where are those angels from?
Angels? I've always painted them. But I felt uncomfortable then, especially in comparison with those masters who created paintings, masterpieces… Now I have overcome it thanks to the life circumstances. It seemed to me that life is too short to be wasted on trifles, it is necessary to use every day to the maximum! Generally, I have a large box of unrealized ideas (box in the literal sense of the word – Author), and I don't have to put them off, but to implement them! My friends supported me! And I am very grateful because this year has shown how many true friends I have! For example, my last exhibition. I was given two weeks to make it. I organised it, prepared my works and saw that people liked it, that my works are needed!
Do you work only with clay?
I try all the techniques. But clay is my favourite – it is such a material that can be combined, used in different ways, even on wood. I really have a big box with different things — glass, wood, some interesting things, and so on. I love that wonderful moment when all the pieces of the mosaic add up to an idea and a new work is born.
What inspires you? A book or a new melody?
Both, but ideas are constantly in my head, I constantly think, plan, contemplate. But children inspire me especially. How do we usually work? I paint around the children, they look at it and say: "I want that too." Then we start to discuss an idea, I ask them to tell about their vision and tell them my own. As a result, we create incredible things!
Have you ever counted how many works you have?
It is impossible to count! My works are all over Europe, mostly in private collections! I have a friend in Lviv, who comes every year and says: "If you have no fresh works in your studio, then I will not come again." Therefore, I prepare for his arrival. There are many friends in Uzhhorod who can come once a year and pick up half of the works in my studio! I just do not count my works, the most important is that other people like them!
Olha, I know that you also design books?
Sure, since 1996 I have been working with the publishing house "Karpaty" in Uzhhorod, illustrating books. I have generally designed about 20 editions, among them there are "The Grain of Wisdom", "A Cup of Kindness" by Yuliia Drahun, "Chupacabra" "The Secret of A Fir Castle" by Vasyl Shkira, a collection of poems by Mykola Matola "Petryk Painted A Pear" and many others. My grandfather managed to type two books – "Sun in the Cradle" and "Sly Tooth". He dreamed that I would design his books. Thus, left were their manuscripts and after his death, we decided to publish them.
In addition to painting, ceramics, what else are you interested in?
I am interested in numerous other things! I am engaged in psychology. I really like this science, especially when you are dealing with children, then you must have some basic knowledge. In general, I believe that any teacher should have a basic appropriate education, and above all a psychological one. In the same context, by the way, I'm confused by what they do with our children at schools: current educational process simply destroys them! Therefore, working with clay is a kind of relaxation for kids. This material is special – it takes away all the negative. It's interestingly that mothers often sit near their children, and not only sit but also sculpt. I am very happy about that. As parents also need relaxation and when they create something with their sons or daughters, this is the best connection, just an incredible means of communication, it brings them so much together!
In the art circles, there is always a discussion about freedom in the artist's creativity. In your opinion, does the artist have to listen to someone who orders him a work or vice versa – to create at his own discretion?
For me, important is an individual approach to the client. I think that people have different tastes, but if you are a designer, an artist, then treat the client accordingly. Before starting an order, for example, I have to communicate with the person, to know what she likes and what doesn't, what tastes she has, to select colours for her. It happened that people asked me to do something, and in response, I asked them for a meeting to talk to them. I explain that this is the only way I can do what suits this very person exactly. This is also a psychological moment. I also select works for a specific interior, accordingly, I ask a photo of the room to see the tastes of this person and what will suit her. Therefore, I always say: if you decided to achieve something in this profession, then chose a reasonable approach, but not your own ego.
What are the interior elements that you create?
In ceramics, it can be anything. If you want to fill in some space between rooms, it can be some free-hanging units. There can be, for example, oil paintings with the elements of ceramics, it can be ceramic panels on wood, stained glass, pseudo stained glass (it is painted on glass with special paints, usually cheaper than stained glass). These can be lamps standing on the floor and wonderfully lightening the room… And there may be elements of decor on the walls. I have dishes made by myself at home …
Olha, thank you for the conversation. I think it is the first, but not the last one. Good luck to you!