Олександр Громовий: «Люблю вільні, розкуті форми – щоб був політ думки»!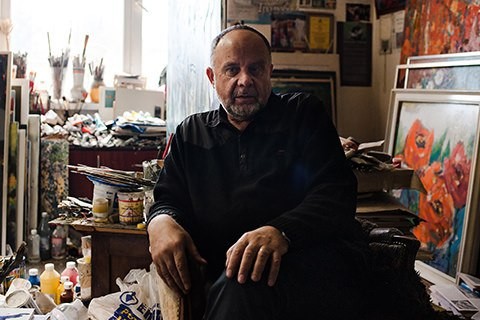 Oleksandr Hromovyi – a painter, graphic artist, aquarellist, original and iconic personality in the art space of Transcarpathia. He was born in Mykolayiv region but has lived and worked in Uzhhorod for more than three decades.
Member of the National Union of Artists of Ukraine, permanent participant in regional, all-Ukrainian and foreign art exhibitions. An artist who is not afraid to experiment with ideas and themes skilfully uses a large number of techniques. He is a connoisseur of everything beautiful, smart. That is why talking with him is an interesting trip into the world of creativity and powerful personal Self.
"In the young years I dreamed of becoming an archaeologist, it was an idea-fix"
– Oleksandr, please tell us about yourself: who instilled in you a love for art? How and when did you get to Transcarpathia?
– I was born in Krasnopillia, Mykolaiv region. After graduating from the Mykolaiv Art College, then I served in the army in Odesa. And later I moved to Uzhhorod, where I married and entered the Historical Faculty of Uzhhorod University. Yes, that's right – I did not think then to become an artist! I was always interested in history, I dreamed of being an archaeologist, it was an idea-fix! But apparently, however, that I was interested in since my childhood: my uncle – a kind of village craftsman – was good at technique and beautifully painted. He told me a lot about painting, we even drew something together and since then I became fond of painting…
Upon graduation, I was engaged in scientific work, in particular, studied art of the countries of the Northern Black Sea Region (Olbia). I planned to enter the postgraduate programme, write a thesis –
a famous Ukrainian historian, an extraordinary personality Eduard Balahuri was my academic adviser. But just before the very exams I went to Odesa, visited the museum and looking around I suddenly realized that I wanted to have art education. Something changed… I went to the dean's office of the art and graphics faculty of the Odesa Pedagogical Institute named after K. Ushynskyi, passed almost two dozen exams externally – the requirements were terrible – and I was accepted in the 3rd year. Thus, my second dream – to become an artist, came true…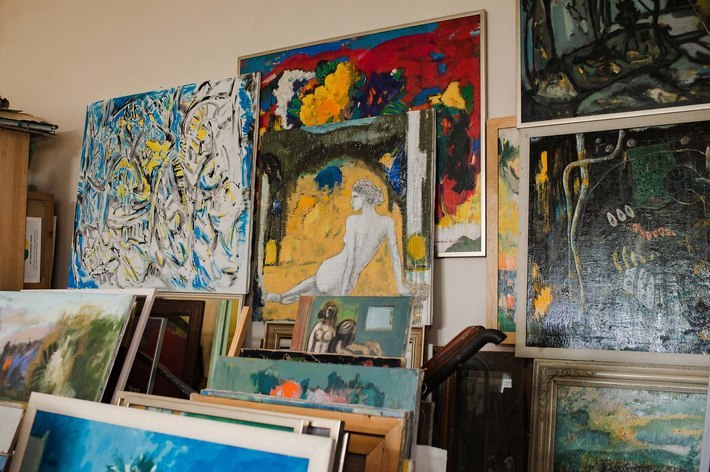 – How did you start your path in art?
– Nothing romantic or interesting, if you want to hear about it (Smiles. - Aut.) Upon graduation, I headed "Ukrpobutreklama" for 10 years. My colleagues and I were engaged in designing, creation of advertising banners for various buildings, etc. Then I taught at the Korytniany School of Arts, joined the Union of Artists.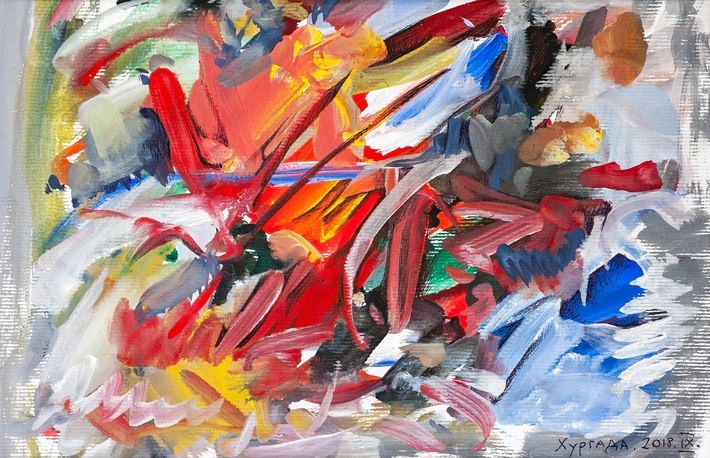 – Do you remember your first painting?
– Those I painted in my childhood not really, but from the point of view of an artist who started to create something, then, in 1986, for the first time, my work went to the exhibition. This was the painting "An Old Hut". I was very worried when works for the exhibition were selected! Now the young artists bring hundreds of works and everything are accepted, and that time it was not like this: we came to the Union and stood in the hall with our own works. We did not even enter the premises where a respectable jury was working. They took our works and then threw them back (Laugh. - Aut.). It was really serious, imagine: the art council included such masters as Anton Kashshai, Volodymyr Mykyta and others. Such was a system then. We just heard the refusals… And suddenly, they were addressed to me: "Oleksandr, one of your works was selected!" What a happiness it was for me – just something incredible! I still remember those emotions!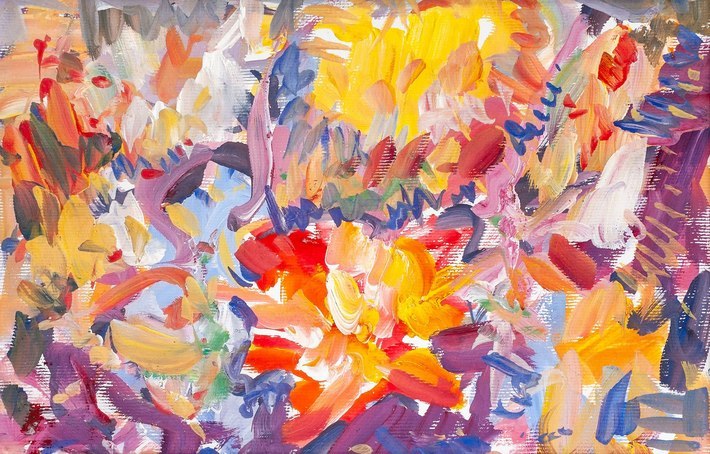 – Whom of the famous masters do you like? Perhaps, you tried to copy someone when you were young?
– I liked the artists of a realistic direction, a lot of them, but it is also understandable in view of the country in which we were brought up. Other directions were less clear because the access to literature was limited, trips abroad were only dreams. I remember I was shown a booklet by Raoul Dufy. I looked at it and thought: "What a nonsense, how it is possible to draw like this!" Now I understand that in order to paint like that, you have to live brightly!
Actually, I had a lot of hobbies: I was always fascinated by the history and art of the Ancient World – Greece, Rome, Iran, India, and so on. I studied, analysed, used it in my creativity. I even created a series of graphics on this subject, though it was somehow sold out abroad. Well, and then there was the acquaintance with France, England and beautiful artists of these countries, American artists. I was fascinated by more relaxed art, so about 15 years ago I myself began to gradually move along this path. There was a corresponding literature. First of all, I should admit, it was hard to perceive it, but eventually, I began to realize how free and loose people were, and what should be a titanic work on your mind to create this! For example, William de Cunning or Schumacher, or Rothko – a lot can be named, but one thing is definite – they made a huge work!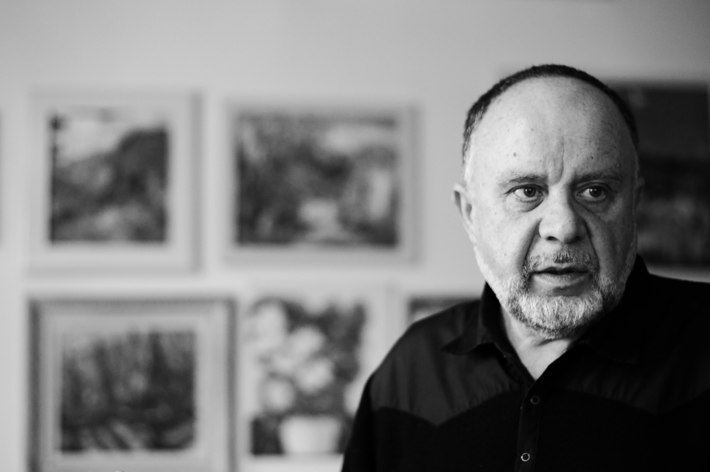 – I conclude that contemporary art is close to you…
– Yes, it makes you think. Look, while you live – you should think if you do not think – there is no sense. And thinking and ruminating are two different things…
"I love free forms that there be a flight of thought"!
– What can inspire you?
– First of all trips: I was in Turkey and created a series of works as a result. I travelled to Germany, Italy where I was working. Rome brought so much impression that now I'm working on a new series. I have been twice in Egypt. I'm impressed by this country, its exotic beauty. And in Cairo museums, I saw incredible masterpieces, which I could see only in the books before …
I also love music – classical, opera, although I wouldn't refuse from listening to Beatles – this is such an ardour! And all this, respectively, inspires!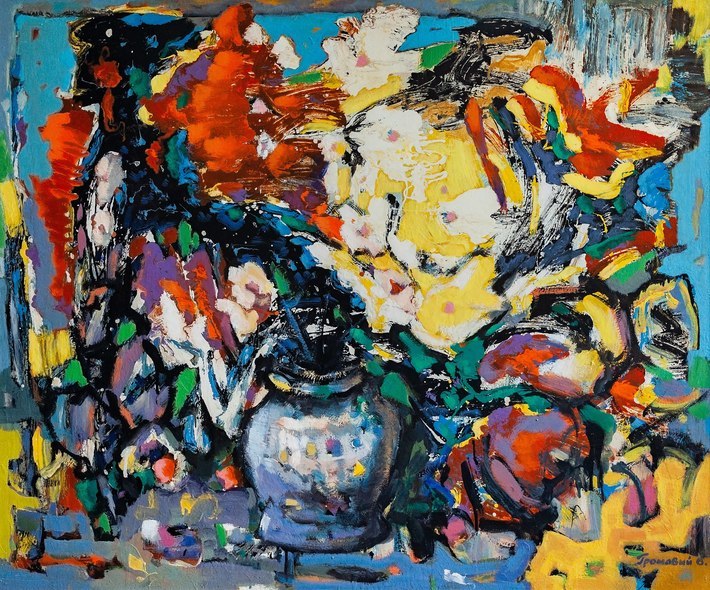 – Is Transcarpathian school close to you? It seemed to me that this can be felt to a certain extent by the colours of your works...
– Transcarpathian school can't be skipped. Bokshai, Erdeli, Manailo are the powerful foundations that each Transcarpathian artist. They can be treated in different ways, they can be also perceived in a different way, which corresponded to the spirit of that time, but their contribution to art is truly invaluable…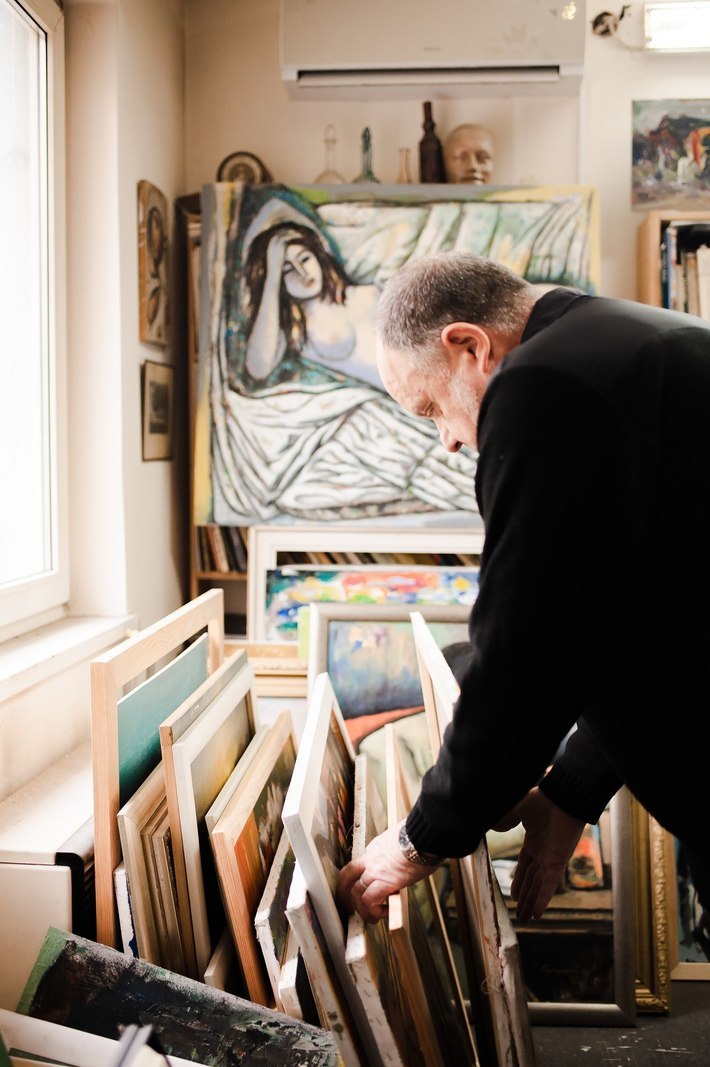 – In which styles did you personally try yourself?
– I tried myself in numerous styles. But most of all I like something close to abstract expressionism. Generally, I love free forms that there be a flight of thought.
But I do not dwell on it… you know, I really like the words of Picasso, I will try to recall them: "...to explain painting - it's like a shot in a darkness. How can I explain painting? Today I was in one mood, tomorrow in another. Therefore, I cannot be the man I was yesterday. They say I don't have my own face. What is a face? When you put in some kind of a box and become a slave of your style! What is it for? On the contrary, one should ask at the exhibition, whose work is it? Wow, he could do it that way… Wow – a man can think!"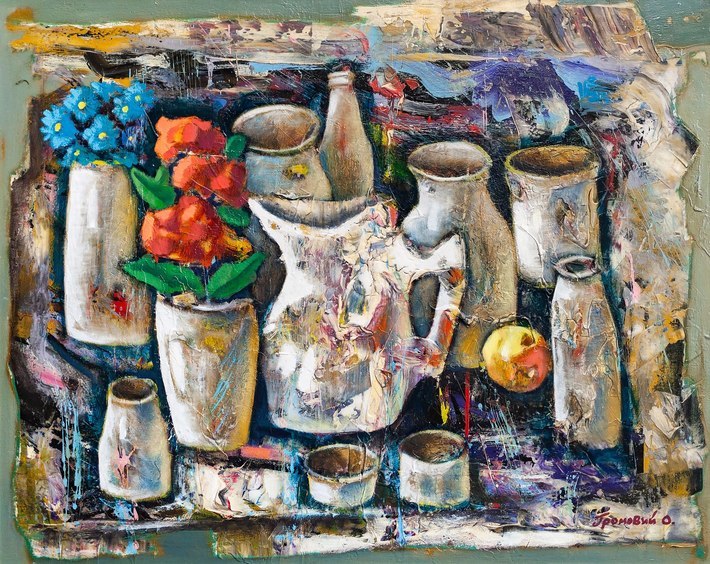 – Are you a moody person too?
– Yes, of course, it happens that I can do nothing all the day, I don't even take a brush, but I take a book and read…
– Does it happen that you paint till the dawn?
–This also happens… Especially when I have an urgent order. The fact is that I also do a little restoration work – this is very difficult! When I see that I do not have technical skills, I refuse and recommend to contact Kyiv, serious restoration centres, because if the work is valuable and expensive, it's better not to spoil it.
– If it's not a secret, what interesting works were restored by you?
– Bokshai, Erdeli. Nevertheless, all these were small works – craquelure, a small lost fragment…
– In addition to painting, what else did you do?
– I illustrated books, or rather, literally a few books. For example, the famous Transcarpathian poet, unfortunately, the late Petro Skunts, published a book and used my graphic works. My father was also a poet, and quite good, as I think, we also issued a collection of his works, illustrated by me.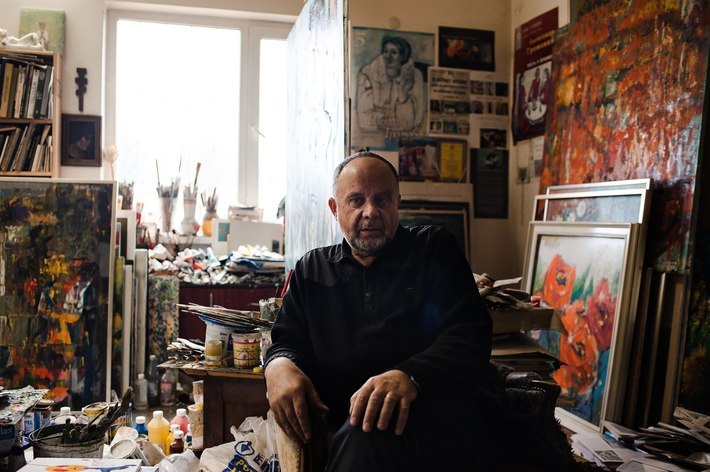 – How long do you work on a painting? Do not you put it aside until you complete it or vice versa?
– I divide all the artists into two categories: those who like a butterfly fly from flower to flower, gather nectar and that's all! And others – like a chicken foraging for grain. I think I belong to the second category. Therefore, in general, I redo a lot of works – until I feel that what I've done corresponds to my internal state.
– If you could bring life back and, remembering everything, and choose the path again - what would it be?
– The same – painting. The only thing I'd change is to do everything in another way but in the same direction… And I would live only in Italy! This is a unique country for me – sunny, warm! I come from the South, and here, in Transcarpathia, I miss sun, although I really love this land!
Oleksandr, thanks for the frank conversation, we wish success to you!
Text: Nataliia Petervari
Photo: Nataliia Pavlyk
© Art & Culture Foundation Brovdi Art