IT WAS HELD A SYMPOSIUM OF CONTEMPORARY UKRAINIAN ART IN TRANSCARPATHIA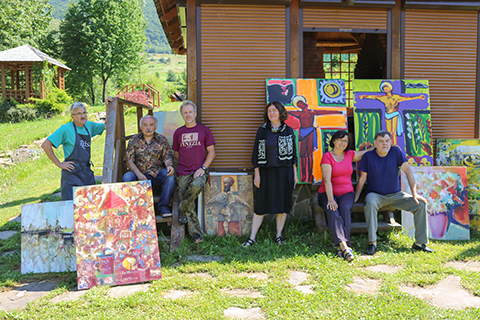 On July 14-26, 2017, for the third time in Transcarpathia it was held a symposium of contemporary Ukrainian art on the initiative of curator Mariana Bodnar and patrons. This time - within the concept "Arte-Factum. Reverse reality".
The organizers invited for co-operation artists from different parts of Ukraine, thus the Transcarpathian artist Taras Tabaka, the famous Kyiv artist Andrii Bludov, the People's Artist of Ukraine Borys Buriak, the world-famous graphic artist Oleh Denysenko, the famous Ukrainian artist, painter, sculptor Roman Romanyshyn, the artist, laureate of the prize "Outstanding artists of Ukraine" Olena Pryduvalova, as well as young talented masters Natalia Korf-Ivaniuk and Oleksii Ivaniuk took part in the plein air.
Creative symposium was held in Vyshka village of Velykobereznyi district, Transcarpathia and in neighbouring villages. In particular, the artists had the opportunity to feel the atmosphere and create in the half-empty Husnyi village, where less than 70 people live today. In addition, they had the opportunity to see and depict, at will, in their works the Champion Oak – a botanical nature landmark of local importance, one of the oldest oak trees in Ukraine (1300 years old), which is titled as the National Tree of Ukraine.
In total, during the plein air the artists created about two dozen works, which will subsequently be presented at the collective exhibition.

Text and photos were provided by the organizers of symposium.