WOODEN CHURCHES IN THE WORKS OF TRANSCARPATHIAN PAINTERS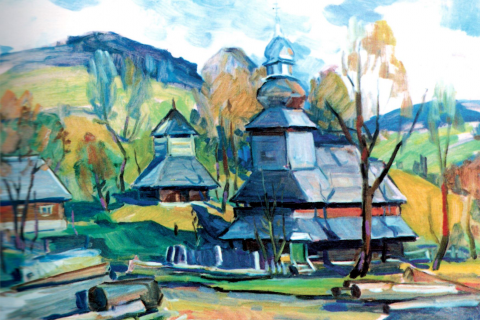 The wooden churches of Transcarpathia make a part of the wooden construction art in Carpathians, which, in its turn, belongs to the huge kingdom of Ukrainian church architecture – the easternmost part of European cultural space.
Even nowadays, after the demolitions of the 20th century, Ukraine still has about 2500 wooden churches, absolute majority of which is concentrated in Western Ukraine and especially in Carpathians. The forms of churches and construction manners have crystallized during the long centuries of folk building deserve no other attribute but that of genius. The generations of unknown masters were able to reveal the beauty of wooden material, to give it a new life in their perfect structures and to agree harmoniously the idea with function, construction and surroundings.
Transcarpathia region is the only territory in Carpathians, where besides its own styles, the styles of all adjacent Ukrainian and foreign areas are presented. It is the land of the most diverse architectural forms. It is here that the traditional church building of wood lasted until the middle of the 20th century – longer than anywhere else in Europe, but interrupted by communist regime.
Now in Transcarpathia there are more than 100 wooden churches, 67 of which are ancient structures. Traditionally, five styles of Transcarpathian wooden churches are distinguished. Three of them, Lemko, Boyko and Hutsul, are named after the ethnographical groups of the Carpathian Ukrainians, and churches with baroque and Gothic features are indicative of western influences. The most ancient churches in the villages of Serednie Vodiane and Kolodne date back to 1428 and 1470. The last traditional wooden churches in Kuzhbyi and Perekhresnyi were constructed 1937 and 1947. Wooden Churches of Transcarpathia received a global assessment. In 2013, two of them in the villages of Uzhok and Yasinia were introduced into UNESCO World Heritage List among other eight Ukrainian wooden churches.
Wooden churches as a unique and distinctive part of the regional cultural and historical space always attracted and inspired Transcarpathian artists. These precious works of folk sacral architecture are perpetuated on canvases of almost all the famous artists of Transcarpathia: Yosyp Bokshai, Adalbert Erdeli, Fedir Manailo, Zoltan Sholtes, Andrii Kotska, Ernest Kontratovych, Anton Kashshai, Vasyl Habda, Yurii Herts, Viacheslav Prykhodko, Ivan Shutiev, Ivan Ilko, Volodymyr Mykyta, Vasyl Skakandii, Vasyl  Svaliavchyk, Taras Danylych, Anton Kovach and a lot of other artists.
Text: Mykhailo Syrokhman