Anton Sekeresh: "It's hard not to be an artist when you see the castle in the window"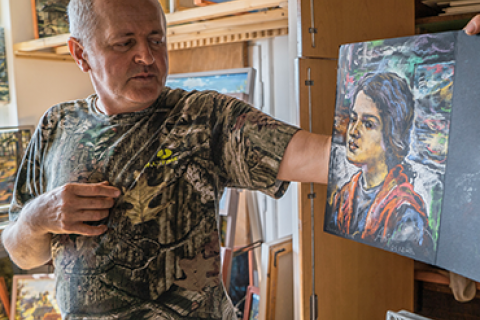 From the panoramic windows of the studio of Transcarpathian artist Anton Sekeresh in Kliucharky village, one can clearly see the Mukachevo Castle, and from the lower floors of the building one can hear cheerful laughter of his granddaughters as well as aroma of fragrant coffee.
It is light here, probably, even on a cloudy autumn day – his pictures are bright and kind as well. Anton Sekeresh is a member of the art union "Rainbow" and creative association "Art Palette Centre", an artist who loves his land, but the most – his family.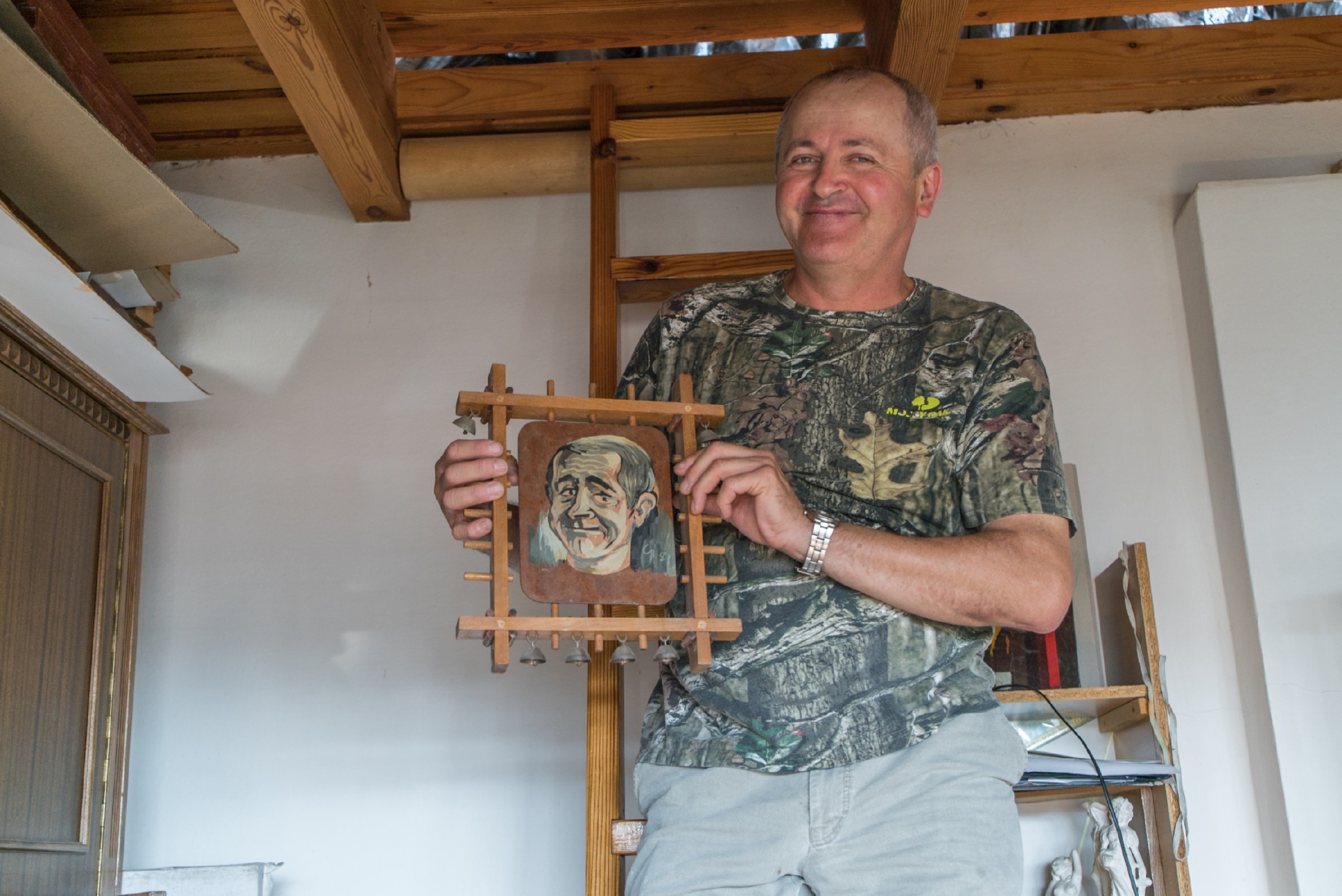 – Mr. Anton, what did your way as an artist started with, as you are a metal master?
– I have always liked to make something with my hands and paint. Metal is interesting, and as long as I can remember, I've always liked to do something with it. I did not go to kindergarten, so I was at home with my grandmother, making and fantasizing. My father had a studio, there was vice, so I could plane timber and it made me very happy. Painting–is like to live, to breathe. I have been painting since my childhood and never stopped. But, when I had to choose, thinking of daily bread, I chose the metal art, since a lot of entrants chose wood, ceramics ...
– Why did painting become primary? You planned to connect your life with metal, didn't you?
– Life is such a thing, there are a lot of directions and sometimes they have to be changed. In general, I am familiar with both metal and ceramics, I made numerous wooden things as well.
– What did your art career start with?
– For the first time I took part in the exhibition as a student. Then Transcarpathian artist Mykhailo Roskin advised us to take an active part in such events, as nobody knows what is next, maybe there will not be other exhibitions. I hung out my work in the hall, but I was very upset because two of my graphic works were cut out and stolen. I tried to remake them at least approximately from memory, but it did not work out.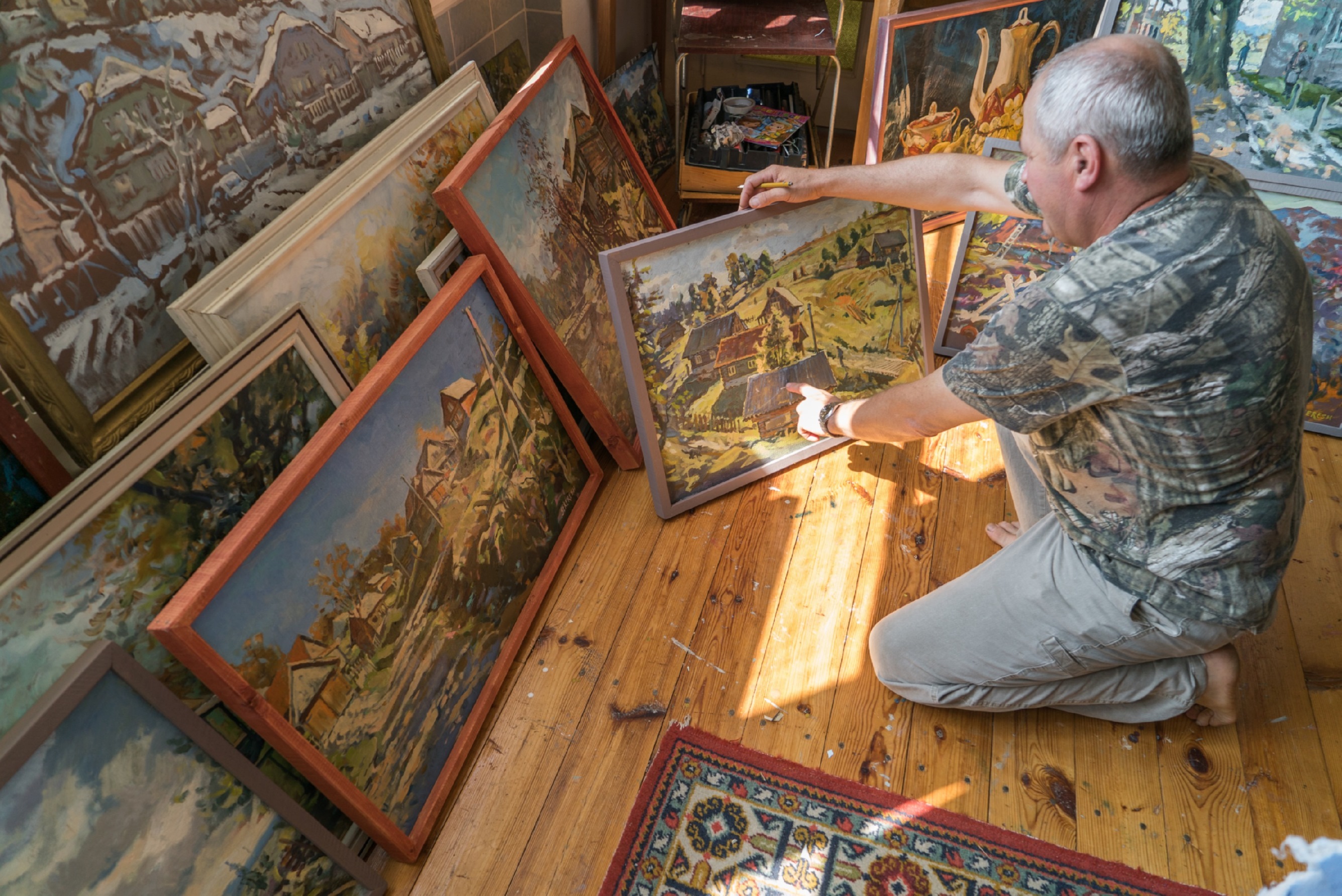 – I noticed that you have portraits, landscapes, and still lifes. What do you like to paint most of all?
– It's nice to create portraits. People are nice. When I see light, colour, hairstyle, turn of the head, I want to capture it on paper as soon as possible. I make portraits quickly, sometimes even within half an hour. I paint friends and colleagues. I almost always have a piece of paper and a pencil with me. Once upon a time I even came to Uzhhorod with a notebook and painted the portraits of passers-by.
I try to paint while traveling, so in my paintings there are Hungarian and Slovak landscapes, freshwater lakes of Michigan.
However, the first place is taken by the landscapes of Transcarpathia - it emits a special energy. We have such wonderful sceneries! This is Borzhava Range, sunrise and sunset, a little fog, and the Bokshai's clouds. And, colours! As Volodymyr Mykyta said: "I bought paints, because I couldn't help, but painting". Now I've started painting castles, especially often I depict Mukachevo Palanok Castle.
– I know, you even prepare a collection of works "Castles"?
– True, it will be a collective exhibition, the purpose of which is to represent our Transcarpathian castles. In Transcarpathia, castles were located every 20 kilometres, each of them is nice in its own way, they have rich and interesting history. From my window you can see the Mukachevo Castle "Palanok", where it's a pleasure to walk and say hello: "Hello, Palanok Castle!" - I am very lucky. It's hard not to be an artist when you see the castle from your window. When I was a child I fantasized about the nobles who lived there, about the storms and people holding the line. I like to paint castles, and now I pay a little more attention to them.
– Your paintings are so kind, warm, and sunny. Even when they depict winter. What do you think about when you paint?
– I wish that my paintings encourage people to do something good. Perhaps someone will follow my example, and start painting. And, it is right, when it is joyful and sunny. Is it to be gloomy? Good and sun should be in the foreground. It speaks about the mood.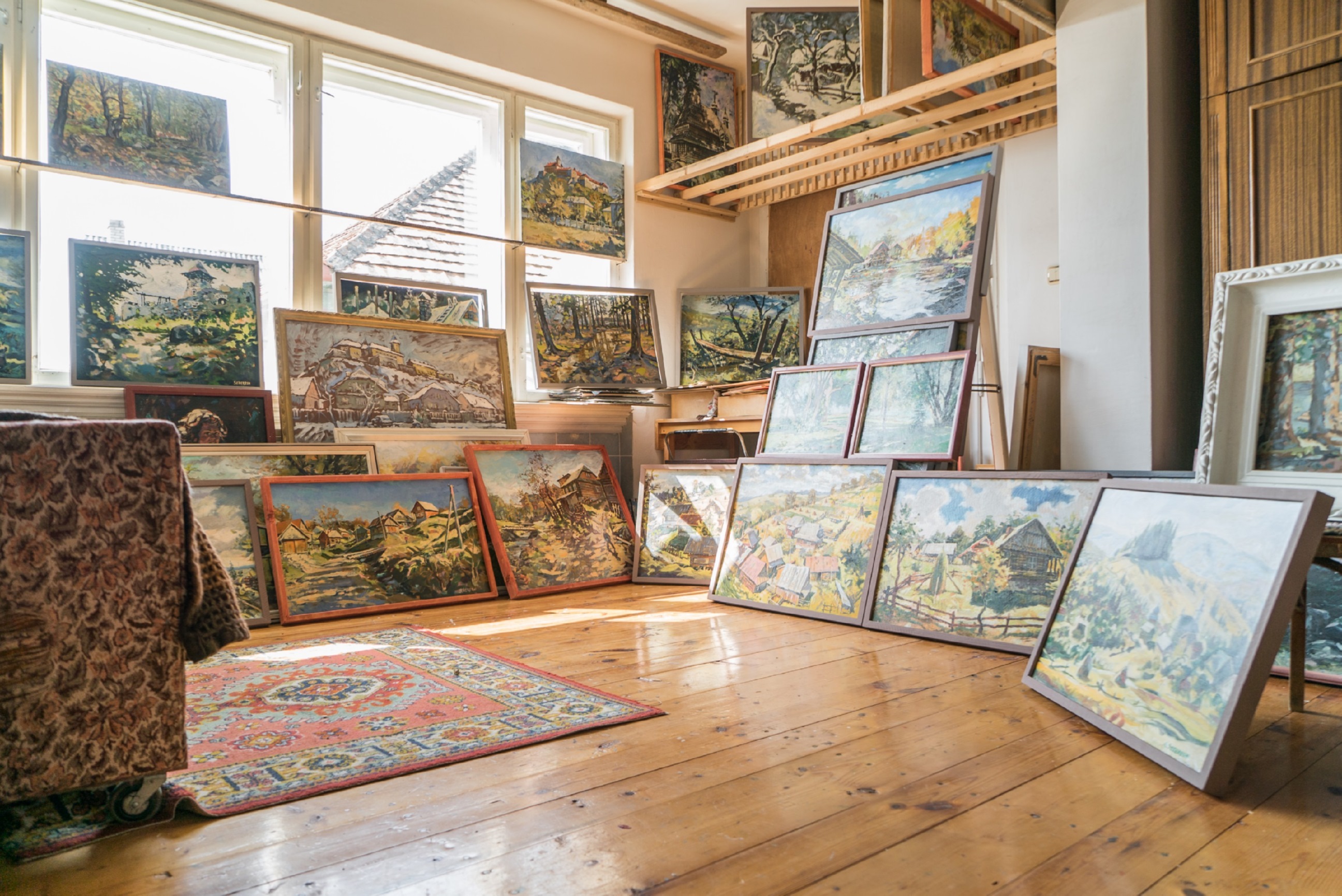 – Which techniques do you prefer?
– I prefer oil, pastel, as well as watercolour and acrylic. But, my granddaughter I drew with a pencil. I'll frame the picture and give my daughter as a gift. I use tempera not very often, because there is acrylic. Sometimes, I paint using gouache. Modern paints give good opportunities, there are even ballpoint pens with nice colour.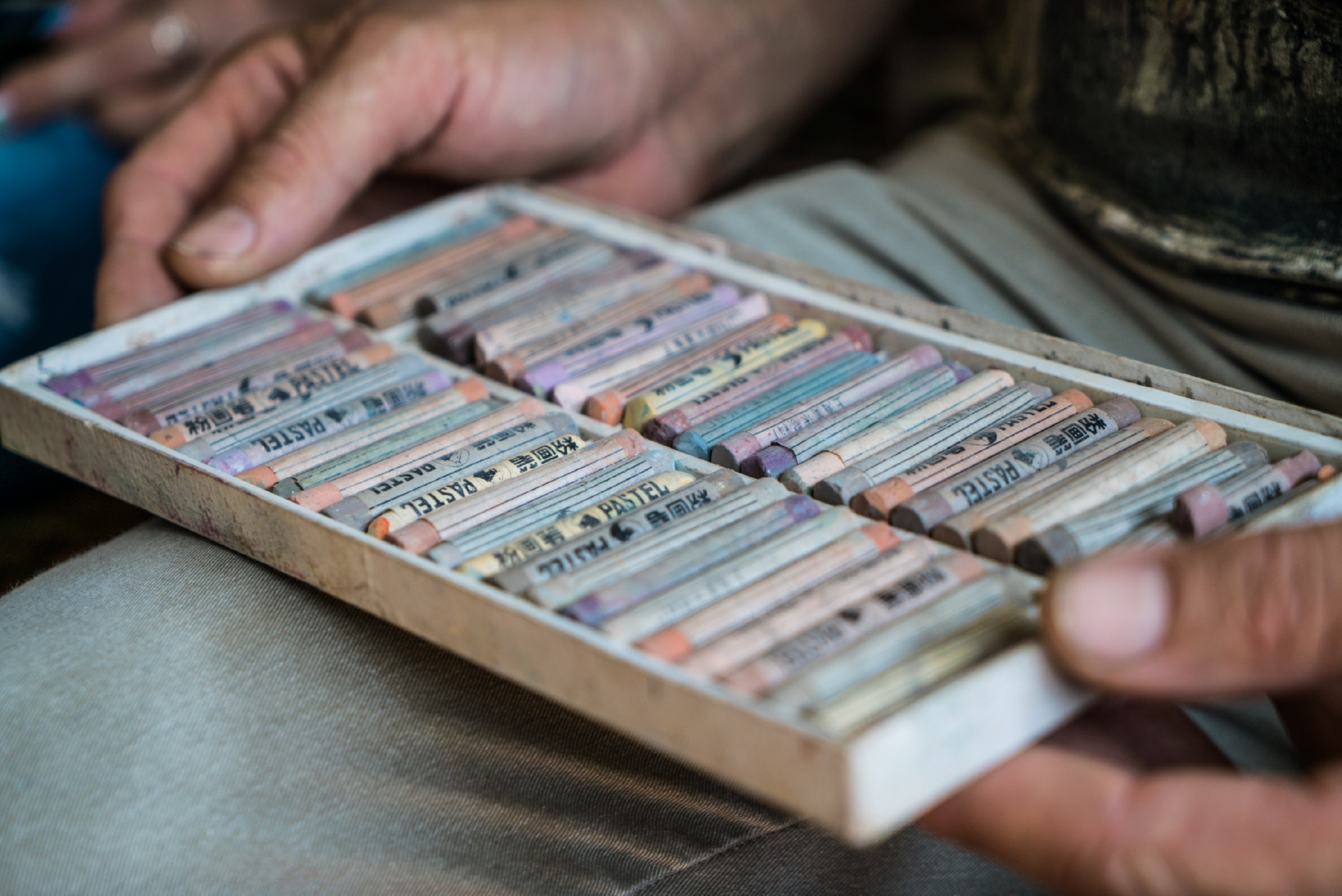 – Do you have your favourite artist? Perhaps you try to imitate someone?
– To paint is the work that does not require assistants. We cannot look back and wait for someone to help us. A person must feel confident and independent. I think you need not compete with someone, but to improve yourself, your style. Surely I am familiar with the works of masters of the world art, I really like the creativity of Michelangelo. I also respect the creativity of my teachers: Zoltan Bakoniia, Shandor Petki, Ivan Masniuk, Ivan Didyk, Vasyl Petretskyi. You need to have a mentor, but you do not need to be too tied up.
– Do you know the fate of your paintings?
– It's hard to keep track of each of them. When I give paintings to my friends, I hope that they hang them on the walls. If they went to order, then it's impossible. I can only guess. And, when I present it, I know that this picture is in Minsk, that is in Chișinău, in Nyíregyháza. I gave my friend a picture when he moved to Berlin. I also created paintings for hotels design, but I do not know where are they. My works can be also found beyond the ocean – I was there more than once.


– What inspires you?
– There must be some disturbance. You need to move, then there will be inspiration. Here are my grandchildren who inspire me.
Text: Kseniia Shokina, Viktoriia Zavadska
Photo: Nataliia Pavlyk