Volodymyr Kuznietsov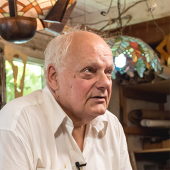 In the city over the Uzh river, in churches, cathedrals, synagogue, in buildings of medical and physical faculties, in a children's drawing school and in many other public institutions, in temples of spirituality, science and culture, one can always see a multi-coloured play of light that is radiated and refracted by hundreds of coloured glasses of stained-glass.
Volodymyr Kuznietsov is a physicist who, fortunately, did not go to work by his specialty, but became a stained-glass artist, author and performer of the most monumental stained-glass windows of Transcarpathia. His life is a lace of coloured glass windows, sometimes sharp in bloody cuts and sometimes joyful and exalted, as a bright palette.
He was born in Lviv. At the age of five, because of compelling and unforeseen circumstances, he moved with his parents to Uzhhorod. But, much in his life was connected with Lviv in the future. He was professionally engaged in wrestling and weightlifting, awarded the title of Master of Sports and subsequently was the coach of the team of Transcarpathian region. He also got a job as a fireman in the alert unit. In 1964, he entered the Faculty of Physics and Mathematics, that was the then fashion: the whole class chose this faculty. Peaceful atom. After graduating from the university, he worked for several years in the "Pobutradiotechnics", but his soul wanted freedom, so he refused from the tedious work – it was not interesting. It must have happened that his fate brought him with professional artists, among which Yan Rudov, who recommended going to the Art Fund.

Beginning.
In 1975, Volodymyr Kuznietsov came to work as a master of the experimental studio. A young and new man was thrown as an assistant to all objects. It was the time of monumental art flourishing, and the design of bus stops was in a trend. In practice, he studied mosaic, sgraffito and painting. Separate works required a lot of efforts and time, for example, in Chaslivtsi village at a gas processing station, the famous monumentalist Mykhailo Sanych performed the concrete work "The World, Friendship, Brotherhood" 40 meters long. And, for three months in a row Volodymyr hollowed the shotcrete with a hammer, giving it the texture. Priceless experience came with calluses.

Glass.
He was lucky, because he had his own car, which at that time was a rarity. For two years, he was moved to the sales department, his task was to fulfil sales plans, which meant that he had to go to customers and sell monumental projects and paintings. The most expensive works were mosaics and stained-glass windows. Art Fund - a monopolist, so there were no problems with over fulfilment of the plans, demand was growing. There was a whole pleiad of talented artists who already at that time mastered the technique of monumental mosaic, but few worked with stained-glass. So, Volodymyr, having golden hands and savvy, having travelled all over the Baltic counties, got acquainted with the stained-glass artists and mastered the technology of making stained-glass in practice. In such a way the era of coloured glass began.

"There were numerous orders and thanks to that Volodymyr Kuznietsov improved his skills: mastered the classical technology of the 16th century and independently reached several know-hows in solving complex stained-glass tasks. First it was used the available glass, and that was Briansk glass of poor quality, the palette of which was limited to ten colours. Over time, they started ordering glass from Riga, the quality glass with a wide range of shades. In the early 80s he already had a whole artel, a studio of 200 square meters – 3 large rooms, in which there were carpenter's, welding, and of course, glass workshops. The only six-meter oven in the Transcarpathia was designed by him, in which he baked painted glass. In those days, Volodymyr was the performer of stained-glasswork and, in close connection with the artists-authors of the projects, he embodied art ideas. Implemented in stained-glass are the art sketches-ideas of his friends - prominent artists Nadiia Krylova, Petro Hulyn, Liudmyla Korzh-Radko, Attila Dunchak, Viacheslav Prykhodko, Ivan Ilko and others. Kuznietsov created more than hundreds of stained-glass works, the largest – 140 squares, which are – thousands of polished coloured pebbles, hundreds of meters of lead brazings. Titanic work!

Together with the collapse of the Union, the Art Foundation became a history as well. The beginning of difficult social and economic times forced the studios to be closed, the workers to be dismissed. Volodymyr started to build a studio next to his own home. Having come to himself, he taught and transferred all his knowledge of stained-glass first to his wife and then to his son. Now they have a family contract. His studio – a two-storey building in which they work together: one prepares a layout, the second bakes a glass, the third polished or makes a braking. The first floor is industrial with samples of art works, and the second – a seating area with sofas and a billiard table.
Since 2000, we can see the numerous spiritual temples and, however that may be, the history repeated the turn of the Middle Ages, when people in black cassocks became the main customers of the monumental art (stained-glass windows, painting, carving on wood, granite sculptures, painting, etc.). Thus, the artists-monumentalists did not remain without work...
List of individual monumental stained-glass windows, executed by Volodymyr Kuznietsov:
– "From Alchemy to the Atom", triptych, 1980, author – Liudmyla Korzh-Radko. Uzhhorod, Faculty of Physics, Uzhhorod National University;
– "Folk Stories", the 1980s, authors – Nadiia Kyrylova and Petro Hulyn. Uzhhorod, Skansen;
– "Geometric Composition", 1980s, author – Marharyta Berets. Uzhhorod, "Padiiun";
– "Space Age", 1980s, author – Attila Dunchak. Uzhhorod Airport building;
– "Outstanding Doctors of Ukraine", 1989, complicated in the performance painted stained-glass, author – Liudmila Korzh-Radko. Uzhhorod, Medical Faculty of Uzhhorod National University;
– "History of Aeroflot", 1986, complex volumetric-space stained-glass, author Liudmyla Korzh-Radko. Destroyed;
– "Olympiad", 1988, author - Liudmyla Korzh-Radko. Vasylkiv village near Kyiv. Olympics base of training.
Volodymyr Kuznetsov decorated with stained glass windows 12 temples, including 4 synagogues (Uzhhorod, Mukachevo, Berehovo, Khmelnytskyi).
"People are like stained-glass windows. They sparkle and spill over with an infinite number of colours, but when the night comes, their true beauty can be seen only if the light is lit from inside." (Jean Houston).
Text: Oleksandr Nikitchuk
Photo report: Robert Dovganych
Photo of stained-glass: Robert Dovganych
Used are also the photos from the archives of Liudmyla Korzh-Radko and Volodymyr Kuznietsov.