ВІТАЛІЙ СЛОБОДСЬКИЙ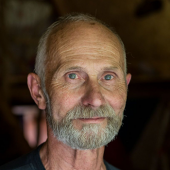 It's not easy to get to Ruskyi Mochar in Velykyi Bereznyi district, Transcarpathia, where the studio of the Honoured Artist of Ukraine Vitalii Slobodskyi is located. The village is mountainous; the road is bad. But, the artist's studio is worth the efforts and time to get to it: in the middle of the planted by the master tall green Douglas firs, it is hidden a wooden dome-like structure, cosy internally decorated with a number of interesting things and works of the master.
You come to the building and realize: it's really a Studio-in such a way, with a capital letter, it's a temple of art, miracles are born here, every thing has its own aura, and the air is permeated with the atmosphere of creativity…
An antique iron, lamps, watches, statuettes and a bunch of knick-knacks on the wooden shelves, a chandelier stylized as an antique wooden wheel, spears with metal tips and even a gun-all these things surround the artist daily. On one of the walls there is a homespun carpet, which is a special pride of the Slobodskyi family, after all, it is passed on in the family from one woman to another starting from the great-great-grandmother. This carpet-about a hundred years old, once it was saved from destruction by simply... burying in snow. But, despite all the vicissitudes, it was kept and not lost in colour or form, perfectly demonstrating those creative traditions that are preserved and passed on in the family from generation to generation.
Vitalii Slobodskyi himself is a grey-haired, respectable man with blue deep eyes, a thoroughly positive person, and it can be felt in every work. Virtually all landscapes, especially those that have been written lately, seem to be pierced from the inside by light. It seems, if you put your hand under the sunbeam that illuminates the old house on one of the paintings, then it will warm. In general, all the paintings of the artist are so realistic that it seems–you are there, amidst a meadow or in a forest, penetrated by the sun rays. Up to this level of mastery, as he himself admits, he has been going on for a long time-through attempts to experiment, because of his passion for impressionism, modernity, abstraction... "But, in the end I understood that the most difficult is realism," the artist says. – So, there are many talks that it's easy- you photographed and re-paint. And, try to do this-for the canvas to be like alive and professionally created, to interest the audience. The viewers cannot be easily bribed… Therefore, for me, for example, the best praise is when at an exhibition people come up and say: "This painting is like real indeed!"
With special love and respect the artist depicted people on the canvases: old grandfather at the horse, neighbours, the hostess, putting bread in the oven or strict doctors in the "Military Hospital" - everybody is painted with the minute details. The artist says that he pays great attention to his characters, carefully reproduces the details, because every wrinkle reflects the mood of a person, each fold on the clothes depicts movement, there cannot be anything superfluous. In this case, it is extremely important composition, perspective and all those things that immediately distinguish professional work from amateur. "When I paint a portrait, I want to convey not only the image, but also the character of the person," Vitalii says. – In general, a real artist should constantly hone his skills, closely monitor the stroke, how the work is arranged ..."
In a certain way the artist treats nature: living in the middle of the picturesque Carpathian Mountains, he is in love with the whole of his heart in the beauty of his native land, and constantly tries to reproduce this passion, these feelings on the canvas. He creates a lot and selflessly, spends his free time in the place where he was born and honed his talent, generously shares his creativity and inspiration with everyone who is close to it. And, in response to the question of guests and friends, how to create such realistic canvases, he sincerely says: "I am 79 years old and I have been painting since my childhood. Constantly. In such a way the skills are developed ..."
Text: Nataliia Petervari Photo: Robert Dovhanych