MYKHAILO KHODANYCH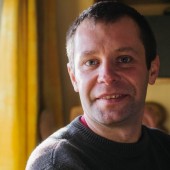 Uzhhorod citizen Mykhailo Khodanych works in wooden easel sculpture, decorative carving, easel graphics and occasionally painting.
He is one of the authors of "chimeric zoo" in Svoboda Avenue in Uzhhorod, which caused considerable resonance. Being 35 years old, he is a member of the National Union of Artists of Ukraine. He is the graduate of Uzhhorod College of Arts named after A. Erdeli and Lviv Academy of Arts, disciple of the famous artists–Ivan Masniuk, Yosyp Pala, Mykola Boldyzhara, Ihor Stefiuk, Mykhailo Mykhailiuk... However, he considers his first teacher and advisor to be his father Petro Khodanych, a well- known Transcarpathian writer and sculptor, master of wood carving.
Humble and favourite teacher of the students of Transcarpathian Art Academy, he doesn't like to work in silence, he prefers interesting music. His studio is filled with wood and variety of tools, his work table and floor are in shavings. And what a flavour is here! It has its own magic, as the graphic art reveals the beauty of human body: bends of the neck, back, shoulders ... He explores human body and, therefore, the imagery of human body prevailed in the works of Mykhailo Khodanych. He says: an ant is interested in ant and a man - in man. His muse is his life, because it inspires. You can often see his works at the exhibitions and if it is wood – you can always know, but there are often creative and experimental surprises. And, one can find it not only in Uzhhorod, but also in Kyiv, Lviv... He doesn't have idols or postulates in art, he just works for himself. He likes Uzhhorod, but admires nature, mountains and especially flickering light in the labyrinths of the human souls.

Text: Oleksandr Nikitchuk
Photo: Oksana Yurchenko