VOLODYMYR MYKYTA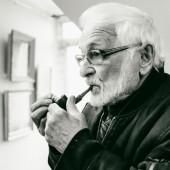 With pipe in his hand, with frank look and warm, wide smile-the way a living classic of the Transcarpathian School of Painting, an academician and the Shevchenko laureate, true People's artist of Ukraine Volodymyr Mykyta appears under the glare of the cameras.
The artist's studio is incredibly warm and cosy. Just from the first steps it is felt that here lives a man rich in spirit, sincere and friendly. On the carpet near the door-a pet dog, meeting each guest and carefully stares at him. Stone fireplace, large green flowers, but first of all - palettes, easels, sketch books, and a huge number of tubes and bottles of paints. Against the background of the wood panelling wall there is a creative equipment, along with dried corn pods, huge shelves, filled with books ... All these things create such an atmosphere that you want to light a fire, sit on the chair, covering with a warm blanket, and for hours admire the masterpieces that cover all the walls of the studio. Every artist's painting is fascinating, every stroke seems to be an opportunity to watch for hours and consider what a genius one can be, what a brilliant hand creates the masterpieces of a world-class...
The major place in the studio is occupied by the canvas, created in 1966, "For a New Year", nearby, as if radiating tenderness and sadness at the same time, there is a picture "My Mummy" and next to it there are warm summer poppies flourishing in the easel with soft red colours. Each artist's painting is a story about the hard work of Verkhovyna's people, about their earthly joys and heavenly expectations, about bright hopes and joyful springs-all these works create the art chronicle of life in the Carpathian region.
The studio of Volodymyr Mykyta, which has already become an integral part of his house-museum, probably does not contain a tenth of his works-it seems that there are only the most beloved and precious for the artist paintings. And, in general, the paintings of the classic of Transcarpathian School of Painting can be found around the world-in the museums of Ukraine, Russia, Lithuania, Slovakia, Germany, Hungary, countries of the former Yugoslavia, Venezuela, as well as in private collections of numerous countries of near and far abroad.
Text: Nataliia Petervari
Photo: Oksana Yurchenko