Olha Ladyzhets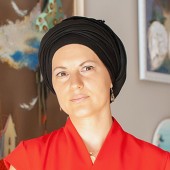 Slender, fragile, not very tall – one can never say that such a little woman is full of a great willpower and an incredibly large and understanding soul. Maybe this is why her love and inner goodness are enough for everyone – for children, for their parents, for her creativity, for beautiful paintings, and for a whole variety of angels. Not those who are high in the sky, but those that decorate numerous interiors of Uzhhorod (and not only) houses, give them a special sound and light mood.
Olha Ladyzhets. creates various figures from clay, canvases, vases and other decor elements A member of the Union of Designers, a member of the Union of Folk Craftsmen of Ukraine – all these are just regalia, but she is a real master, an artist, a ceramist, a sensitive pedagogue and a delicate psychologist. It's impossible to read her infinitely generous soul. Therefore, only through a partly open door, we can look at her holy of holies – her Studio.
… Olha meets us at the entrance to a small room on the ground floor of an apartment building near the well-known tourist centre "Svitanok" in Uzhhorod. Just at the door – a wooden bench, asking you to sit down. We enter the premises with care – in order not to break anything, as the ceramist works here. There should be a lot of extremely fragile products around. There are indeed, but everything is in its place – on the walls and shelves, on the windowsill and table. Olha smiles and says not to worry – most of the products do not even have time to get used to this room, as they travel to their new houses. "I do not even know what to show you," the artist says. "There are very few works because they practically do not stay long in the studio. The last works were brought to the exhibition (it was held in July 2018 at Art PRO - Aut.), almost all of them were bought."
Let's look around. Olha's studio of is light and bright, as well as the master herself. The walls, painted in warm colours, have numerous products on them: wooden panels with ceramic products, paintings in mixed technique, with elements of clay, angels – everything was made by the artist's hands. On a separate stand in the corner – a tremendous work from the photos of the books she illustrated.
Olha says she wanted to open her studio long ago, but it did not work out. "I dreamed about my private studio very much – and here it is! My husband and his father helped to open it, without them there would not be such little magical space for creativity. It all started with my husband told me: "That's enough; there is too much clay in the house." And, as a result, I finally have no mess at home – I just transferred it to my studio! (Smiles. – Author.)"
In the middle of the room, there is a long table, at which the author usually works by herself and with the children as well. There is enough space for everyone. It is here that, drinking morning aromatic coffee, they touch that charming clay… Olha shows how it should be tempered: "Before you begin doing something, the clay must be tempered very well – so that there won't be the smallest bubble of air, because it will then spoil the entire work." To the question where the material comes from, the master sadly responds that this question has recently become a real problem with the beginning of the anti-terrorist operation in Eastern Ukraine. Nevertheless, there will be always a solution if you have a desire!
The artist works a lot and faithfully, there is no free minute in her schedule: in addition to her daily family cares, she spends her time working, thinking over the ideas.
Olha tempers a piece of clay prepared for a new work. "I have an order from one of my admirers," the ceramicist says. "At first, I schematically depict what I have to do, and then take clay. By the way, I have a special approach to the clients. Before I start doing something for order, I have to communicate with the person, hear what she likes or doesn't, know her tastes, select colours for her. It happened more than once that someone made an order without seeing, but I asked to meet and talk. I explain that only this way, after a personal meeting, I will be able to complete the order – that is, do what is right for this person that will please her. It is also a psychological moment. In the same way, I select the works specific interior. I ask, respectively, a photo of the room to see what tastes of this person or family. "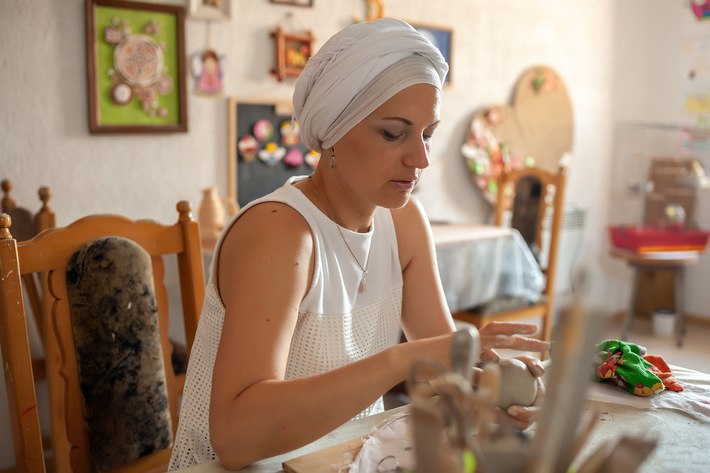 Along one of the walls in the studio, there is an open closet, on its shelves, there are numerous masterpieces. I cannot control myself and start picking up things on the shelves. Here is a clay cat, no, not that way – a satisfied well-fed cat that doesn't even look at the mouse, quietly hiding somewhere on the shelf. Next to it, on the canvas, there are large blue fish, one of them cunningly looking directly at me, and I, in response, enthusiastically consider every scale, skilfully modelled by the artist. What a huge work, skills and experience it is needed to make every element, every little detail! And here, on the moon, there is a sleeping owl, and behind it – a little girl looking out from behind the bell. Next, there are other details and workpieces waiting for its proper time…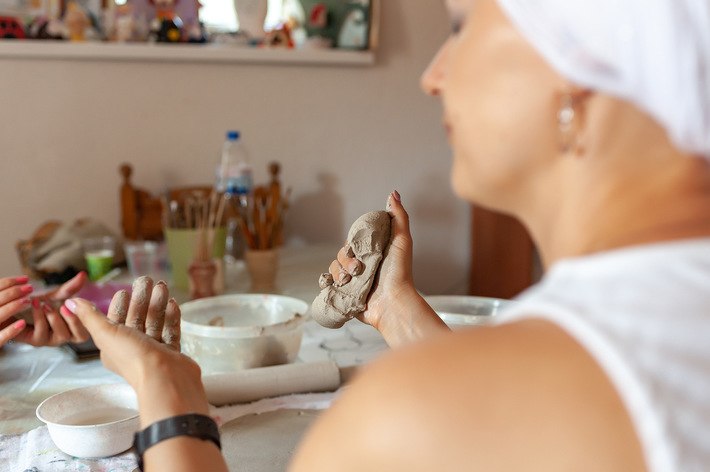 We ask Olha to show something that very few people see. "I will show you the dishes that were once made… However, it was a long time ago in my student years..." Plates, bowls of different diameters and depths are in Olha's house, she does not store them in the studio, she is afraid of breaking them. Although there are few left of what was made. She admits that this work is not easy, although it is extremely interesting. It is only a pity that there are very few real connoisseurs of such dishes, and you cannot mass-produce such dishes – it can only be individual orders.
A lot of families in the city know Olha Ladyzhets, she does not only create but also actively attract little Uzhhorod residents to it. Including children with disabilities – those that require special attention, patience and of course art therapy. "I had an experience of working with autistic children. It was not easy, especially without special skills, but clay made us friends and gave a sense of the correctness of what we started to work together on! Clay is as an absorbent, which extracts from the child all negative, gives a positive impression, and for special children, it is a special, extremely needed relaxation. I will tell you that sometimes children even come to me after school and practice, they model something, they can simply temper a bucket of clay – and they come back home in a good mood! Because in such a way, they manage to get rid of everything negative that arises on the background of the oversaturated school life… Therefore, I always say that clay – is extremely noble material in the sense of psychotherapy."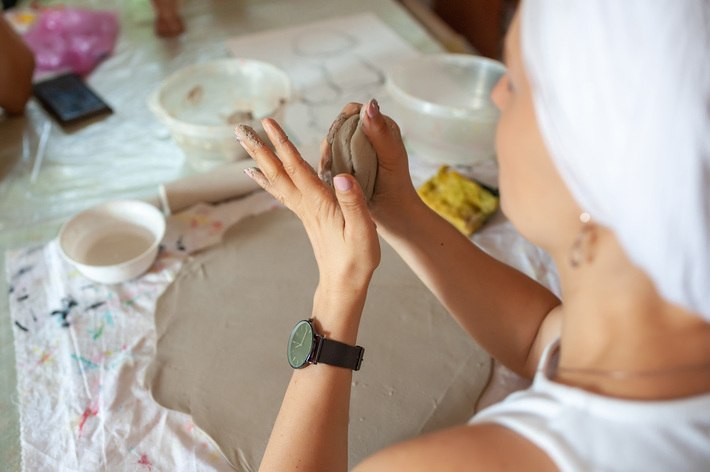 A small room next to the main, large studio – a kind of pantry, where the master hides a lot of interesting things. Here, in the literal sense of the word, is a box of ideas, that is, real deposits of a variety of wooden plates, stripes, pieces, blanks of clay and other materials— they are all waiting for their proper time, for that moment when, looking at them, the master will have another idea – new one that has not been implemented yet. Olha says that she looks in the box from time to time, especially when it is necessary to do something new, original. "I have a friend who comes to Uzhhorod once a year, buys a lot of my works, but always warns me: 'Olha, I will come to your studio, and if I do not see anything new, I will not come again.' Thus, I have to surprise him!"
Olha Ladyzhets really amazes – everyone who knows her, who is familiar with this truly impressive woman. Her strength is in her creativity, in her incredible light and gentle works, which are a reflection of the inner extremely rich world of the master – so generous and bright, which is enough for every person, who get the paintings and stained-glass, vases and lamps, cats and angels made by the artist…
Text: Nataliia Petervari
Photo: Nataliia Pavlyk