Olha Hal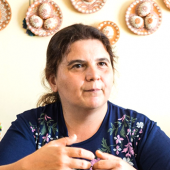 All who know the ceramic artist Olha Hal from Vynohradiv would have said that she is extremely modest and incredibly talented. 
This is a woman, who does not want titles and recognition, she is dedicated to and carefully does what she loves – paintings, sculptures from clay, graphics on the glass, vytynanky, embroiders … Everything she made is full of great love, as the art starts with it …
Olha Hal has np studio in the usual sense of the word – it really lacks space, broad tables, where one could lay out all the necessary accessories, shelves and racks for all the products born in the artist's imagination, chests with material and clay… Instead, her studio is an apartment where every free space in the living space is occupied by art works. Here, we are surrounded by miraculously preserved antique furniture, which Olha incredibly appreciates; amazing embroideries decorate pillows and bedspreads, and rushnyky are hanging on the walls. A lot of ancient things, made and collected by the artist, lovingly stacked in boxes and sprinkled with aromatic herbs for better storage. On the shelves and walls – her favourite books, the whole volumes with records and sketches of her own multi-year research and product samples: here are clay pysanky, dishes, samples of a brush, and much more made by the master.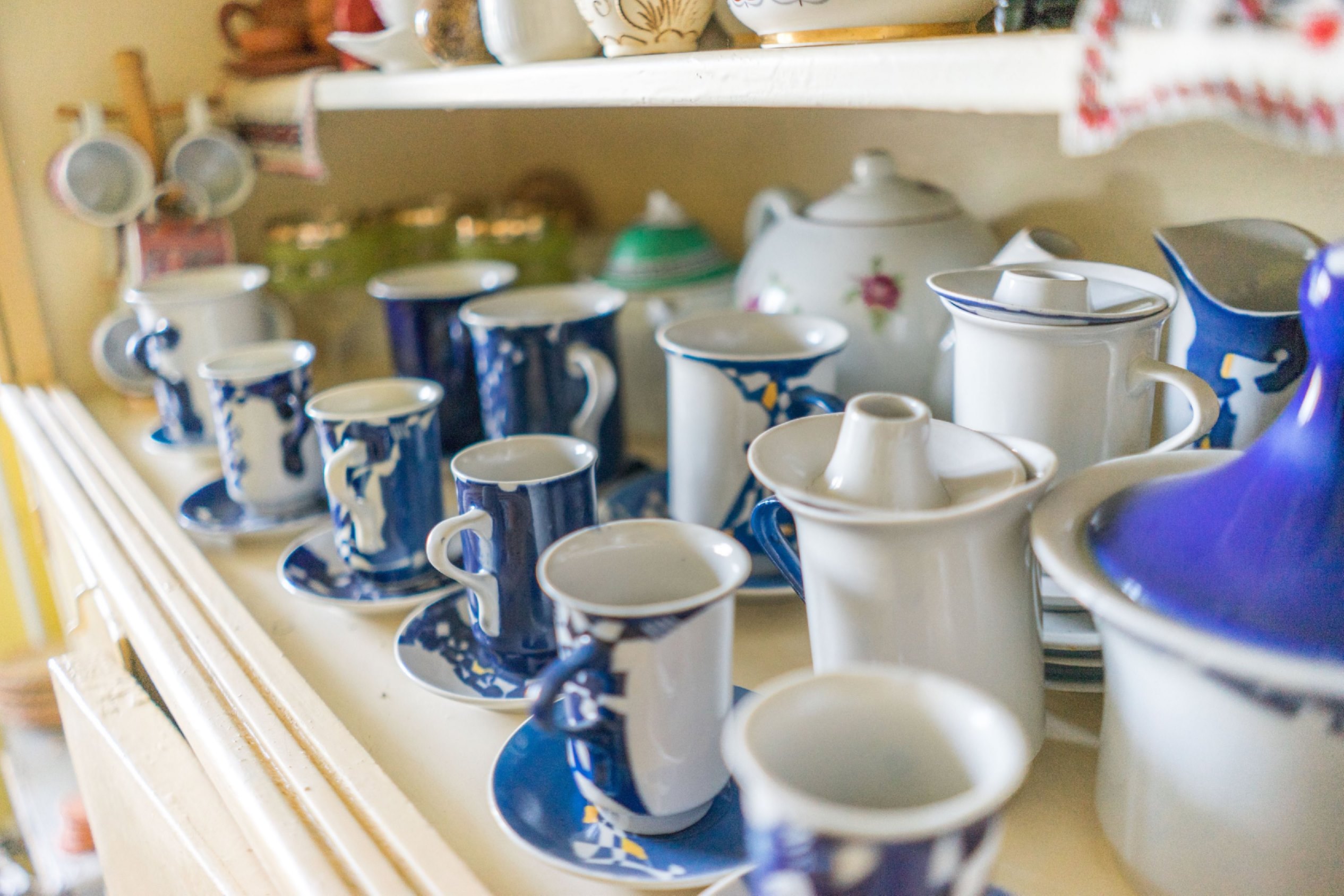 The artist's kitchen is also special: here are two tables - one is for cooking, the other is for clay products. Just next to it there is a gas oven, in which ceramic products are baked. The balcony is filled with clay bags - a younger brother brings it for the artist. Olha shows the guests how to knead the material, how to work with shapes, decorate the finished product.
… Olha decorated a clay egg with a special tool. She makes amazing decorations with a small, needle size stitches, laying out a kind of lines. And she tells about herself.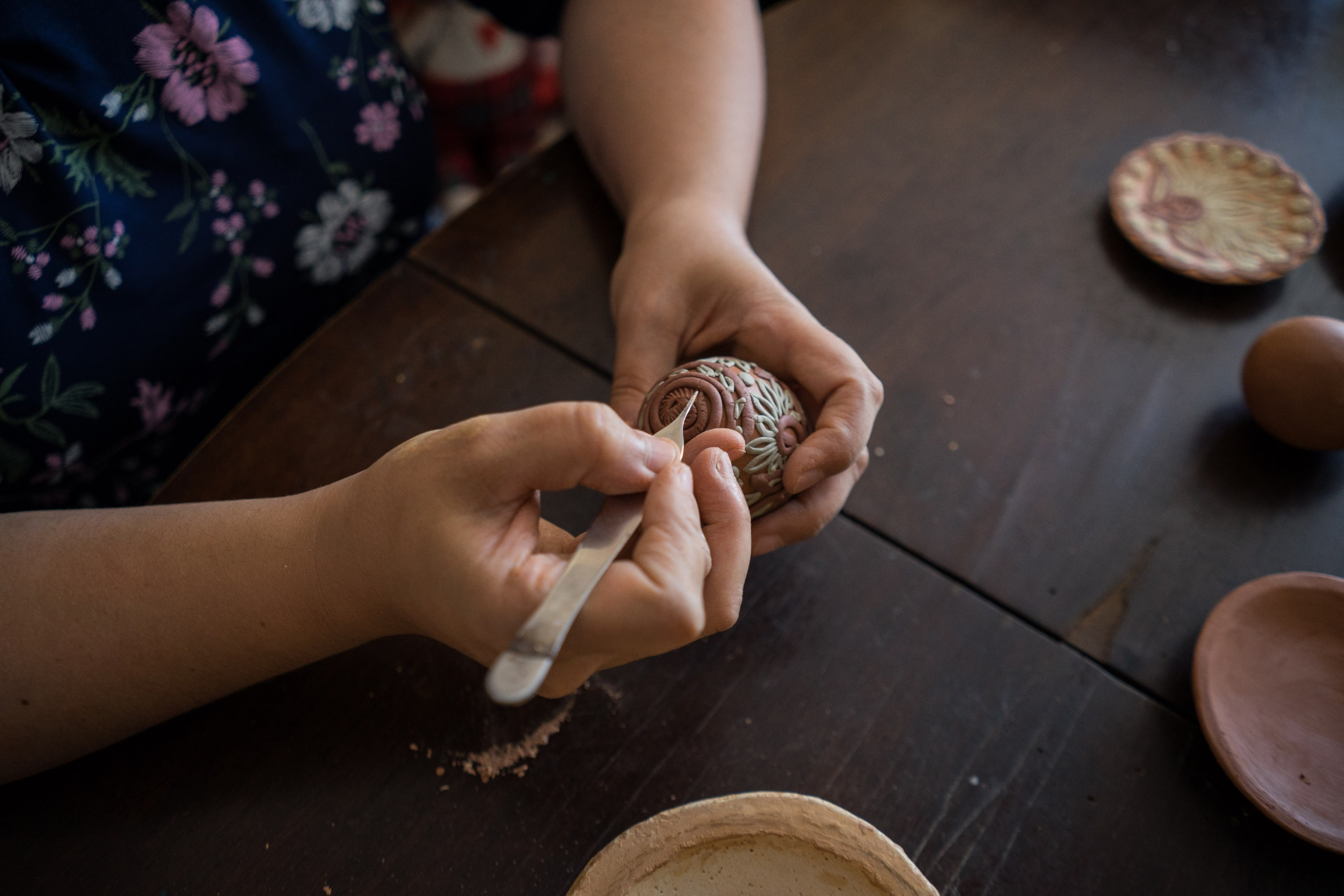 The Olha's future was defined not by her talents, but, as it often happens, by her parents: "I actually wanted to study physics, I did not dream of art. But the ceramic plant in Vynohradiv played its role. My parents decided that receiving such an education, I will easily find a job". That was the decision: at first – studying at Zoltan Bakoniia, later –at Uzhhorod College of Applied Arts, hence in the present Lviv Academy of Arts. It was there, working with clay, Olha realized: here it is, a true one. But at the same time, it was not easy: mathematical mindset required accuracy, sensitivity, and calculation in art. "At the institute, I had a turning point," the artist recalls. I liked mathematics, so I was fond of controlling everything, using the logic of numbers. My teachers saw my attitude to creativity and one day, roughly speaking, they simply "shook" me: well, why do you keep doing this? Buckle down! Art is not math! It is necessary to think in both fields, but the perception of reality is different. The mathematical representation of reality is a photography. And we need to show the internal state".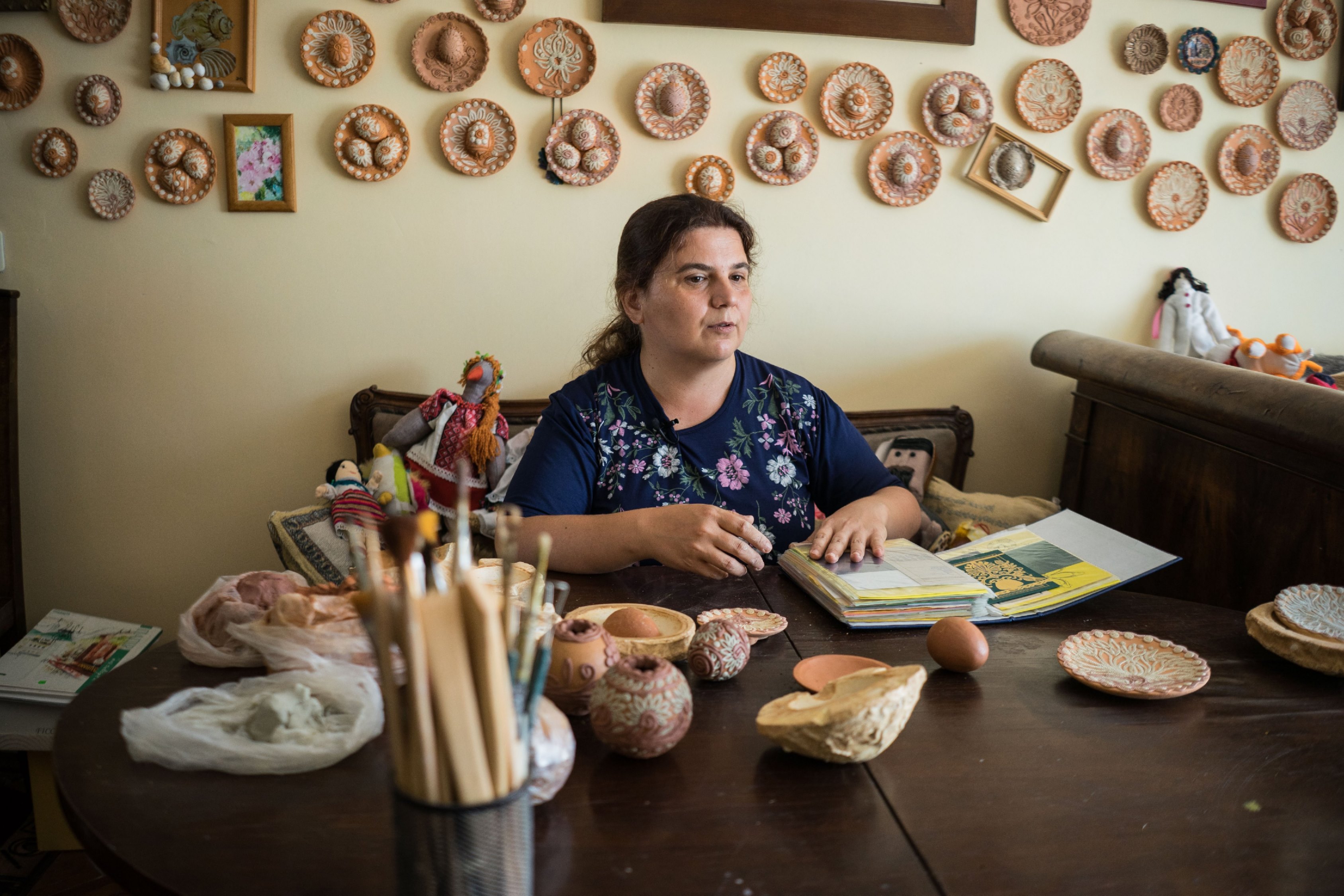 After the graduation, I returned home, where I faced the harsh routine of the artistic talent that had not been evaluated, as nobody wanted that talent in the small regional centre of the smallest country's region! It was not easy. Sometimes I gave up. I was helped by chance: "I did not want to work with clay. But once, famous capital artist came to the exhibition of our diploma work. He evaluated the work and offered his help: "What do you need for development?" "I thought if I said clay he would answer - just dig it," Olha recalls. So, I asked him for a kiln, as it was very expensive! He agreed. It was an impetus! I wouldn't have started working without his kiln."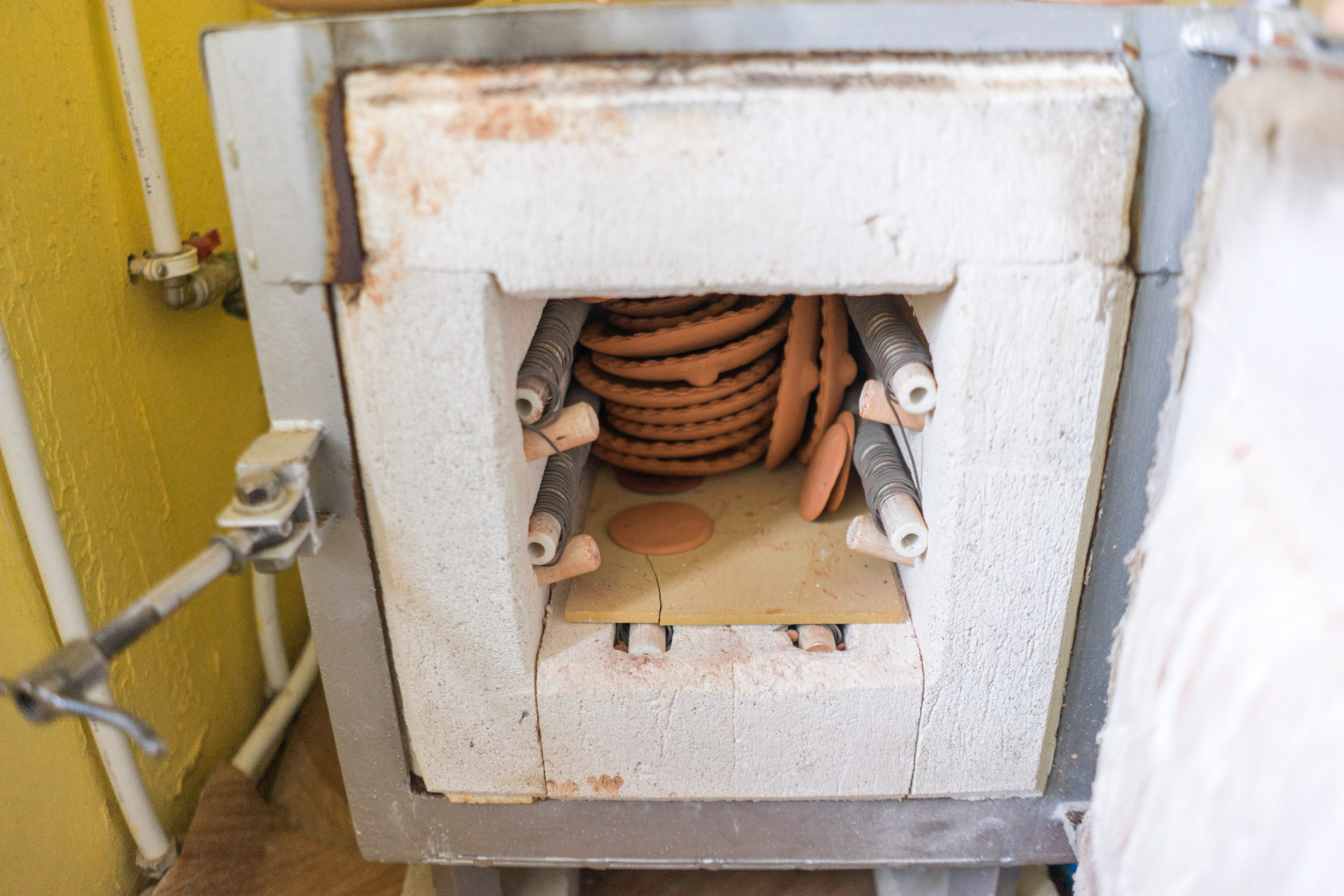 So, it happened: she started working with clay because it was close to her. The first works of the author were the awards at the various festivals, prizes. She experimented a lot, thus there were a lot of rejects. Therefore, the question arose what to depict on the products? First, there were examples of Byzantine and Greek culture. But, they were not perceived at the local level, so the artist took up the search for something native, authentic. She studied it and decided to make embroidery and patterns on household things – dishes, costumes, tablecloths. "I wanted to find something own," the ceramist says. I had to work very much. First of all, I had to understand for myself what should come out, and it was encouraging. This process of searching absorbed me so much that I wanted to continue. Now I used these elements of ornamentation in some of my works – and I am very happy that it is very harmonious."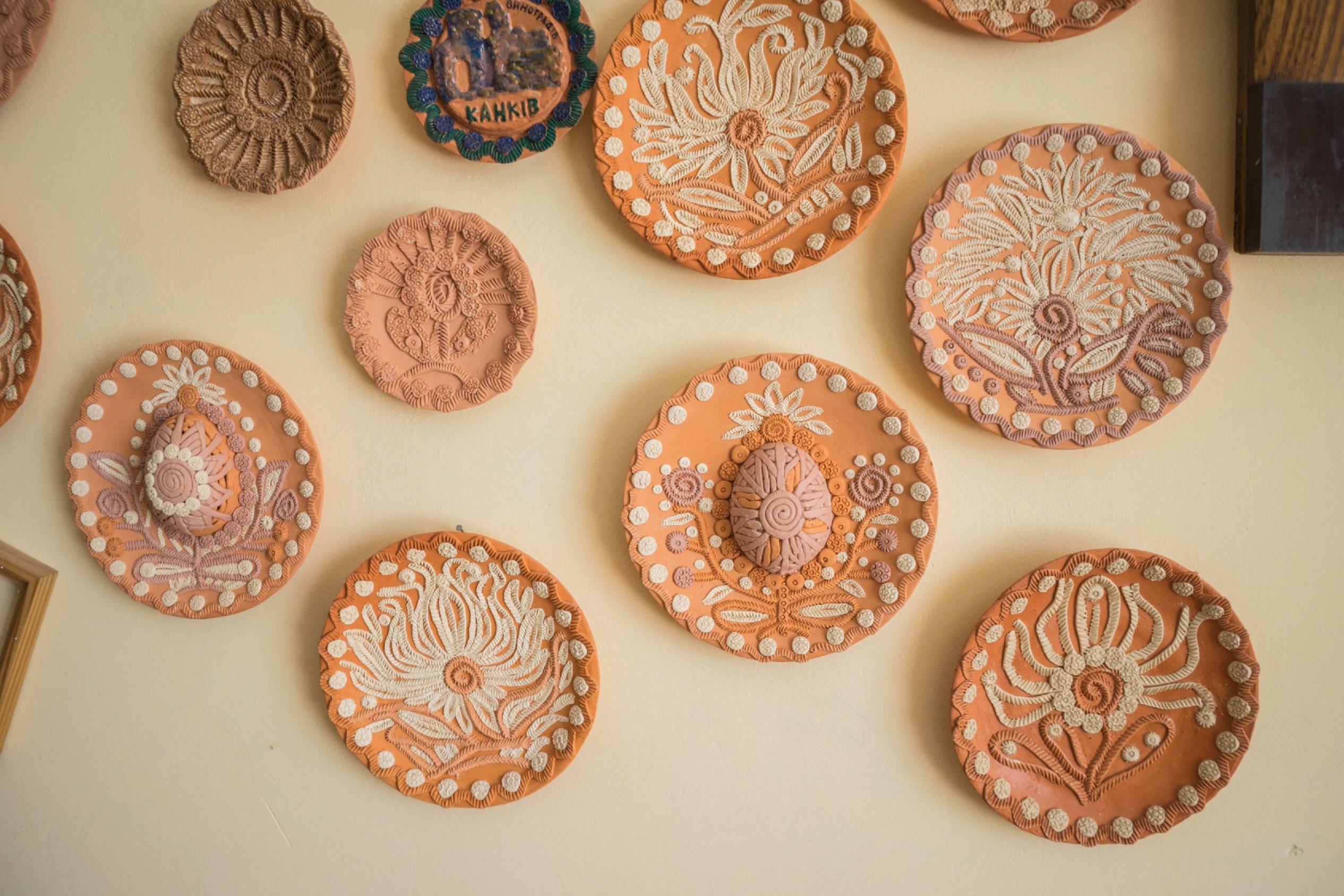 Olha has a special attitude to the material in general. Clay, as the master says, is a very capricious lady. "I've been looking for my material for a long time," the author recalls. But, as it turned out, clay from the different mines has a different chemical composition, respectively, when baking different kinds of clay get apart from each other, do not stick together… And there are very beautiful colours of the material! That's why I do not add any paints, I like the natural colour. Thus the product could sound in a special way." The artist shows a variety of clay – here is a white and milk, ochreous, and in a separate bag with a purple tint. "You know, even one and the same kind of clay in different products can behave differently when baking. Therefore, I do not have two identical works. Clay is a master itself, as it is baked, such will be a product. And it never fulfils my wishes."
I ask Olha: "So you have a kind of dialogue with clay?" The master smiles: "Perhaps. We teach each other."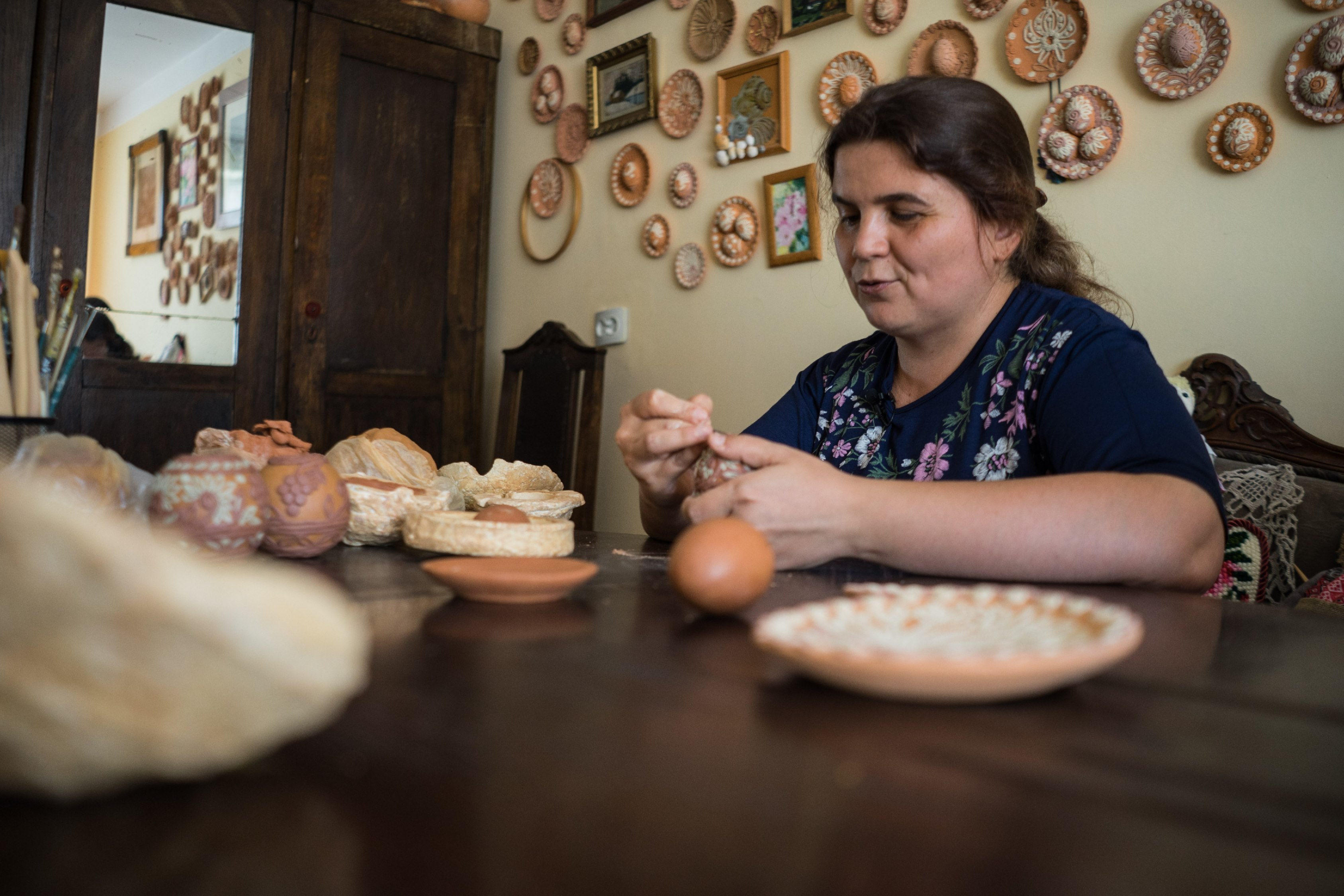 For the artist, her work is not a thoughtless approach, but a deep introspection. Without exaggeration: every product means a huge work – training and self-education, understanding of the sign system, the author's thoughtful approach, a lot of unsuccessful steps and hard work. That's why each product carries a piece of the master's soul, in which Olha puts a special meaning: "After all, I live in Transcarpathia, so my work should be interesting first of all for the Transcarpathians. Thus, you encourage people to respect traditions, so that they can see where they live so that they do not forget what their ancestors did, what meaning they put in the making of jugs or embroideries ..." But there is a problem, as Olha says: "The problem is that our art has become silent. Every work must carry some kind of information. A person who looks at your work should learn about you from it. And now one can't see it often. Although I can say from my observations that people analyse me, especially art lovers, and it's nice!"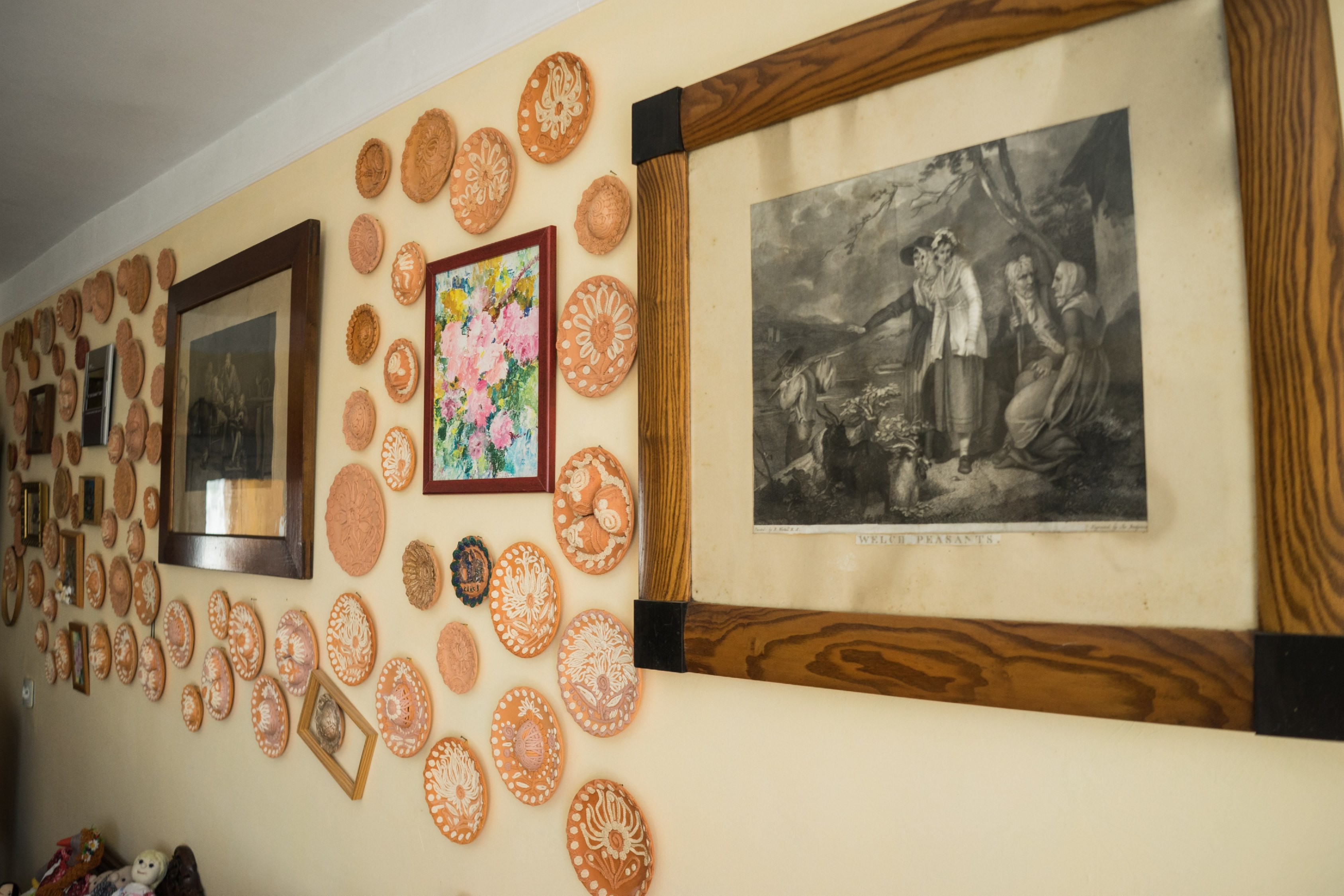 In spite of ceramics, Olha from time to time tries her forces in different art directions. She tries different techniques, genres and styles. She is not afraid of anything – she experiments boldly and, most importantly, often. She admits herself: not everything works out, some things need training. But this is not a matter of principle. In fact, important is quite a different thing, Olha Hal says: "The main thing is to have a desire to say something. And have something to say. As if a person has nothing inside, then there is nothing to talk about ..."
Text: Nataliia Petervari
Photo: Nataliia Pavlyk