Mykola Ivancho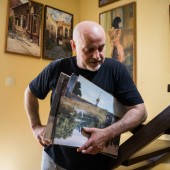 Uzhhorod citizen Mykola Ivancho – a mysterious man and at the same time a person with an open heart. A unique artist, the unsurpassed master of graphics, extremely sensitive painter.
One can stand breathlessly looking at his works for hours, and at the same time, think puzzled: how a man could so thinly feel and convey things he saw on the canvas?
Mykola invites to visit him with some apprehension, obviously, it is not so easy for the master to let strangers in his "holy of holies". However, he meets hospitably and speaks sincerely. With his respond to the question "Someone says he was to paint, and what is your history?" he started his story about his first impressions, samples, sketches … "From my childhood, I remember the graphic works of the book "Fairy-tales of Verkhovyna", says Mykola. It was V. Skakandii, I really liked looking at his drawings. They were impressive! In addition, my father painted from time to time, though I vaguely remember those pictures... As for me, I started painting quite late. It took much time to make such a decision. I got the education, then I worked at the plant, and realized that I wasn't doing what I liked. A little later, there was a vacant position of a graphic designer. I occupied it, and only then I felt that this was my place! I worked with a designer Ihor Yevdokimov, who also pushed me to a difficult artistic path. He used to say that one needs to constantly work on yourself."
To learn painting, Mykola went to the evening preparatory classes for entering the university, where the programme contained both painting and drawing. Nadiia Didyk, who saw that a talented young man aspired after something, supported and worked hard with him: she reviewed his works, made corrections and suggested where to move further. After that, the artist had a lot of things in life – failures and disappointments, real friends and pure feelings, jobs he liked or not so much, but in the end, he had time for creativity …
Mykola invites the guests to a small room in the attic. There are comfort and tranquillity, an easel with unfinished canvas, whole "bouquets" of brushes and pencils in vases. Impressive is a careful attitude of the artist to everything: each thing has its place, the accessories are neatly laid out, everything is very clean. The artist shows his works: "In general, I like drawing. Because drawing is a basis, classic, although we have more oil paintings everywhere ..." And it's true, the artist's graphic strikes, at first sight, the works are so detailed that it's hard to imagine how much time it took to create them. "Here, for example, I have works made with white gouache, the artist shows. This, while I was working on it, it was possible to create a painting with oil of the much larger size. And the graphics are usually very detailed. This is a painstaking work – no right to mistake! It's not about details. When I look at the object, I do not try to depict every single thing, but I want to convey that overall picture, create an illusion of presence for the viewer. And I reproduce what I planned using the necessary technique and sense of pressure. That is why I like the most to reproduce life scenes in this technique: for example, a son with his friends, a painter reading a newspaper, neighbours in the courtyard, friends from the gym, colleagues doing something at the plant... I like graphics because you can leave free space on the canvas, that is, you can leave the story unfinished…"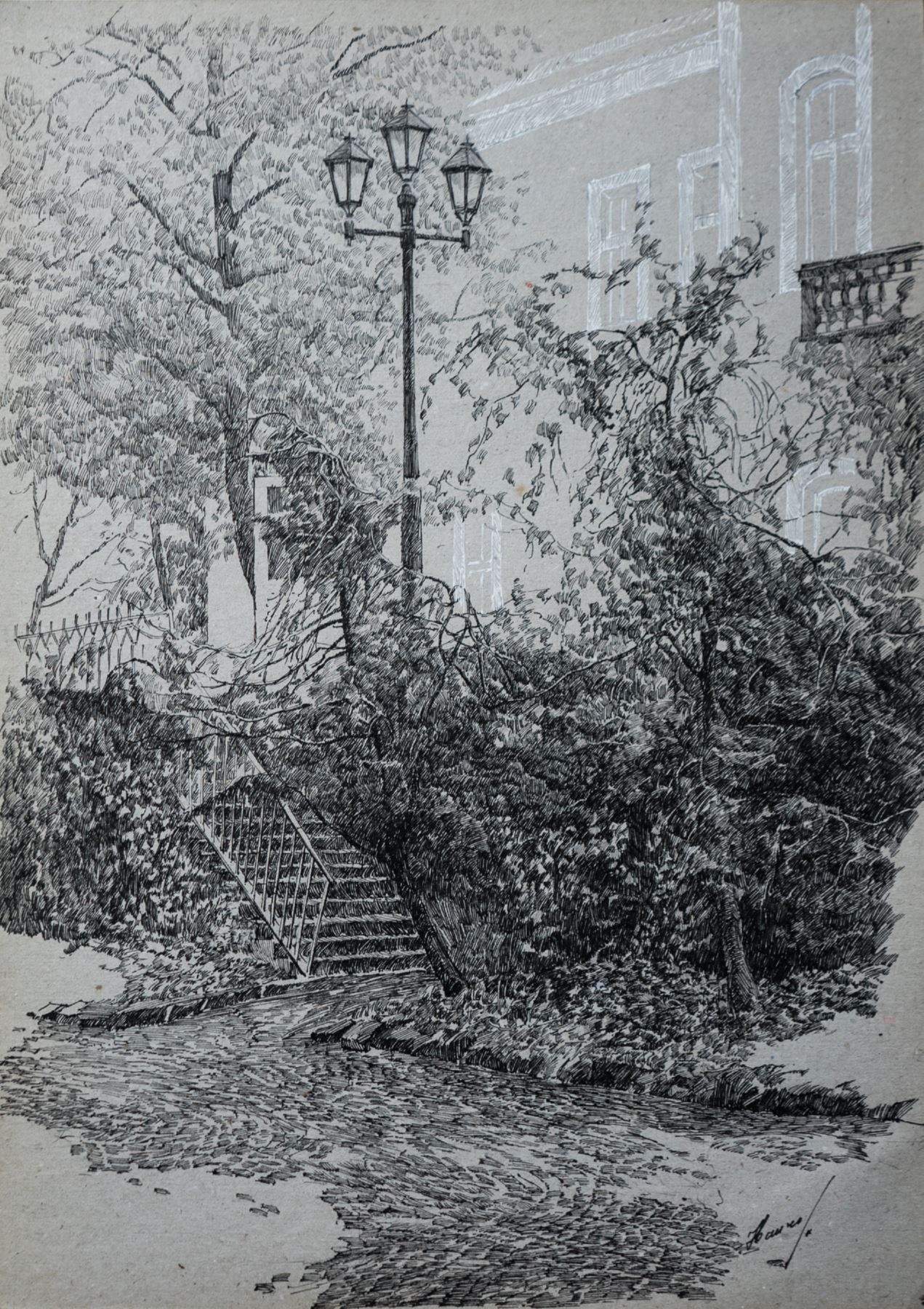 Master had also enough oil works. There are canvases everywhere - on the walls of the rooms, on the easel… A lot of watercolours – thin and sensitive. The artist's works, on the one hand, are emotional, moody, and on the other – extremely well-balanced, thoughtful: the city landscapes, it seems, show familiar faces, cosy corners in the gardens fascinate with the special atmosphere of the old town, the portraits are full of character and emotions... Looking at them, the question arises: is it important for an artist to know a person, to feel his nature before doing a portrait? Mykola answers: "I read a lot of literature on the inner world and its external manifestations. One artist told about it very clearly. Once he said that in order to represent a person as accurately as possible, one has to put him into those conditions where he looks the most similar to himself, to make the correct lighting and natural poses. "All you have to do is just copy," said my colleague. Therefore, while studying people, I made another conclusion: people in photos do not always look like themselves. The question is why? After all, camera completely transmits the reality, the exact proportions. And the fact is that we recognize people by various features, for example, by silhouette, voice, movements. It is only the appearance that left in the photo and picture. Therefore, a lot of portraits and photo-portraits are not perceived, because people are not in their usual form: with new hair or make-up, they do not look like they do every day… Therefore, you really need to know a person to convey not only a static image ..."
Mykola shows numerous sketches, ready-made works that are still waiting for the framing. There are a lot of them, but the artist can tell a separate story to each of them – how he planned it, when and how it was painted. Not all works he is ready to give away – "... etudes are very difficult to give away, because this is a work on location and it helps to see the direction I move in, develop or, on the contrary, regress, or remain at a standstill."
Mykola allows criticizing his work only to his son, although this is not easy: "Unfortunately, my son cannot paint, but he is my chief critic. He can look at the picture and say very accurately that it is not good that it is better to be corrected. He has this feeling. And I listened to him, I trust his feelings. But, perhaps, it is hard for every artist: when they point out to your mistakes, you get angry, because you did a lot of work. But there is also the other side of the coin: when you work for a long time, you can notice no shortcoming. Therefore, it is important to have a look from the outside."
In general, the artist advises "to get rest" from work or look at it in the mirror in order to see it in a new way. "It seems that some of the Transcarpathian coryphaei had a mirror wall opposite to the easel place, and thus the artist could evaluate the picture as if from the side."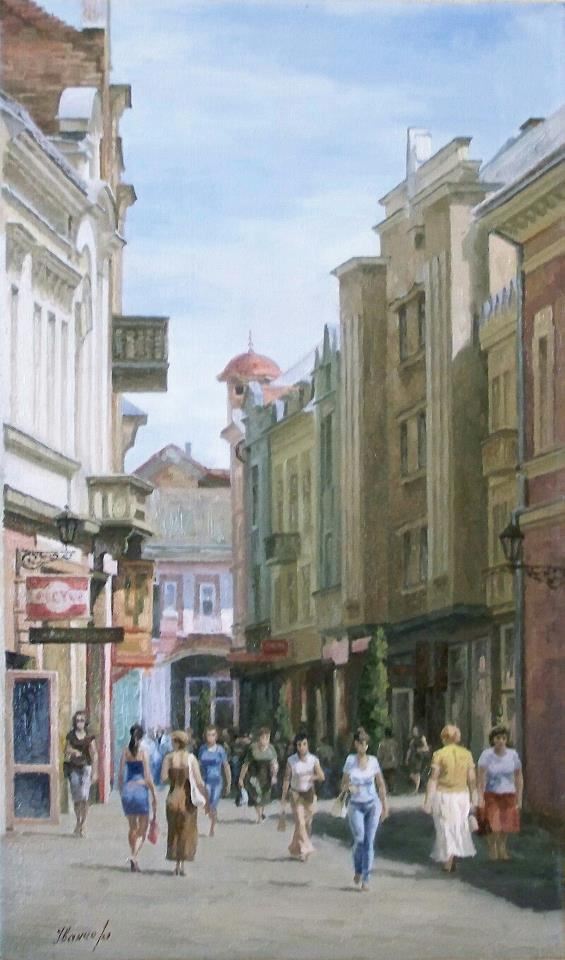 … Mykola Ivancho likes Uzhhorod – its ancient streets, quiet and cosy corners, sunshine, autumn leaves' aroma and spring cherry blossoms. But, in recent years, it has become almost impossible "to catch it", because the city rapidly changes… He has to paint in the morning and on weekends when everything is still asleep…  And that is why on the artist's works it is depicted Uzhhorod which does not exist, Uzhhorod of the past and modern, known to everybody and unknown at all. The artist's works filled with incredible love to his native land and ability to see s something beautiful in ordinary thing. This subtle feeling, which is not given to everyone, is a talented hand and a creative soul with which one has to be born.
… It's a pity that very few people can see the master's works and enjoy his creative vision…  
Text: Nataliia Petervari
Photo: Nataliia Pavlyk