BEATA KORN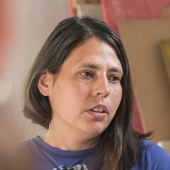 Beata Korn from Uzhhorod studied at the art college of her native city, and then, in 2003, she entered Lviv National Academy of Arts.
The fusion of innate talent and two schools resulted in a creative personality, that has already pleasantly surprised the art world. She is the personification of powerful internal energy, that is resulted in artistic synthesis of materials. Beata works and lives in one of the city districts along with her husband, a glass painter, artist Viktor Melnychuk.
Beata's studio is a place for creativity and experiments. Despite the fact that the former garage cannot be called a specially created place for a sculptor, but these two creative people turned it into a real creative space. Young couple, who have already created their own page in the artistic space of Ukraine, work and embody their ideas right here, next to their parent's house.
There is a small table in the centre of the room, where ceramics are mould and enamelled. Next to it there is a muffle furnace, where separate pieces or series of ceramic designer products are burnt out. Along three walls there are wide shelves, completely covered with accessories, tools, shapes, various plaster blanks, boxes, artworks from glass, and other details of future sculptures and projects. Beata admits: the studio is common, but the art of the spouse had to be divided into different places - technical tools with paintings are not compatible, sorry for the latter. "Painting is a jewellery business, but there is a lot of "technical staff" here, they need a different space," - the artist says, showing pictures that have not yet "moved" to another studio. But, when there are joint projects, both Beata and Viktor do a fascinating job together. They work with different materials that are only exposed to creative imagination and can embody the artist's best intentions: plastic, vinyl, clay, glass, wood, concrete, etc. "My husband always supports me,"- says Beata. "I can start creating something, and I do not see the final result yet, but he already catches it, complements ..."
Generally, for the young artist space plasticity became a priority in the course of creative comprehension, but she also paints sometimes. She experiments a lot, both with the technique and with the means of execution. Creativity is a game for her where there are no boundaries for thoughts and fantasies, and where future images and visions are born and mature to fulfilment. Imagination has no boundaries and extends from ceramic bulbs, cloud sconces, bunny lamps to large monumental plastic deer or heroes of the Lego space. Her works are built on contrasts, the emphasis is made on colour and the idea that she wants to convey, but not on the material.
At the same time, all those things that have been comprehended and embodied through the artist's inner world bear such a profound meaning and ambiguity that every spectator can find a message for himself. That is why Beata takes care of various subjects that accumulate from everywhere and fill her studio, she collects them, because she sees some ephemeral ideas, thinks that they might be needed for the embodiment of a particular idea. "I am inspired, perhaps, by some subconscious moments. And, it does not matter what I am doing–I am reading, I am looking at the sky or doing something. Sometimes you do not even need paper or sketches. I catch myself on looking at an empty wall and visualizing the matter in my head, designing ..."
Perhaps, for Beata Korn, like for every artist, it was not easy to look for her personal space, her way in art. Nevertheless, the confidence in what she is doing, family support and incredible optimism helped: now the audience and art connoisseurs know that every exhibition in which her works participate will be interesting and not ordinary. This was attested by the numerous projects at the Kyiv galleries "Shcherbenko Art Centre", Kyiv. Fine Art, "Workshop", as well as in Lithuania, Slovakia and other countries. We are waiting from Beata for the flight of thought, and, considering her interested look towards large-scale projects, we can hope that the artist will surprise her fans several times more.
Text: Nataliia Petervari Photos: Robert Dovhanych, Valentyn Kuzan