TRANSCARPATHIAN REGIONAL ART MUSEUM NAMED AFTER Y. BOKSHAI. PART ІІ. WEST EUROPEAN ART OF THE XVI - BEGINNING OF THE XX CENTURIES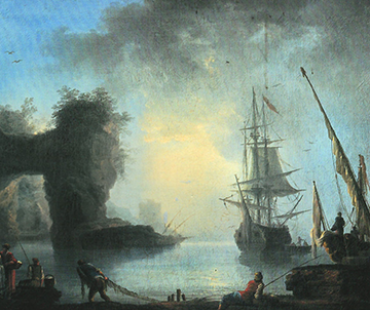 Transcarpathian Regional Art Museum named after Yosyp Bokshai was founded in 1948.
Since 1979 the museum has been located in the historic centre of Uzhhorod in 3, Zhupanatska square, in the building of the former Board of Uzhanskyi County (architectural monument of 1809). The museum repositories have more than 10 000 exhibits, including paintings, works of graphic art, iconography, sculpture, moulding, decorative and applied arts.
The museum collection is divided in several directions. Interesting and substantial is the collection of West and Central Europe of the XVI - beginning of the XX centuries, represented by the works of masters of different art schools and trends of Italy (J. Palma, F. Albani, G. da Bologna), France (M. Claude, C. Vernet, J. Brakass, R. Hubert, H. Riesener), the Netherlands and Flanders (L. Lombard, S. Hoogstraten, A. van den Tempel, C. Bega, and P. Wouwerman), Austria (F. Defregger, K. Wittinhof, J. Stunder, F. Janneck), Germany (P. Roos, F. von Kaulbach), as well as Spain and Denmark.
Works of decorative and applied arts – unique masterpieces of the vintage porcelain and fine decorative plastics, dated XVIII - the beginning of XX centuries, greatly complement and expand the idea of the fine arts development in the countries of Western Europe.