Mukachevo Creative Association "Rainbow"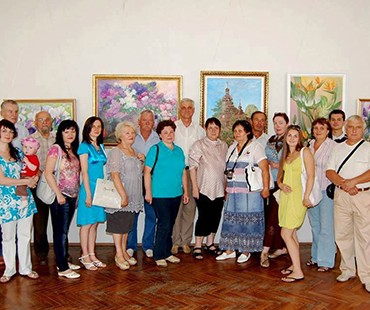 Mukachevo Creative Association "Rainbow" was founded by an artist, carver Serhii Pishkovtsii and an artist Halyna Hrenko.
Since its creation in 2009 and till now, the association has been headed by Serhii Pishkovtsii.
"Rainbow" – a city non-profit public organization which is a joint artistic space uniting different in age, education, and preferences artists. In order to become a member of the association, it is necessary to submit author's works to the Art Council consisting of at least 9 members.
Now the association includes about 30 Transcarpathian artists working in different genres. At the collective exhibitions of "Rainbow", one can see oil, tempera and watercolour paintings, graphics, carvings, and embroidery. Members of the creative association are actively working on the formation of the positive image of the city, promoting the Transcarpathian school of painting in our region and beyond.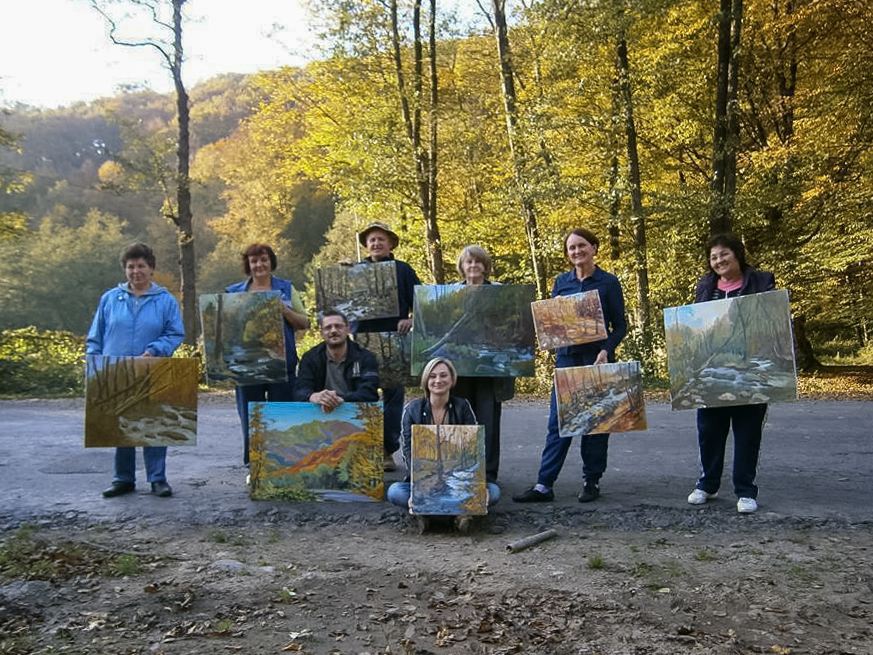 The members of the "Rainbow" take an active part in the artistic life of the region. Serhii Pishkovtsii and Halyna Hrenko managed to unite a creative team with powerful potential. And in 2013, the creative association "Rainbow" released a catalogue of works by all of its artists.
The association's members constantly participate in collective exhibitions in their hometown and in different regions of the country, arrange personal exhibitions, conduct active plenary activities, get acquainted with creative achievements of colleagues. The artists are ready to co-operate with the cultural centres of the region, Ukraine and foreign countries, therefore, they often visited plein airs outside Transcarpathia at the invitation of their colleagues.
The artists' works are exhibited at various galleries and receive positive feedback from national and foreign experts. In particular, the exhibitions with the participation of all the "Rainbow" team took place in the exposition spaces of Halych, Kolomyia, Mukachevo, Chynadievo, Ivano-Frankivsk, and others. In Kyiv, Odesa, Uzhhorod, and in Hungary the association's artists took part in collective exhibitions, solo exhibitions of participants took place in the cities of Ukraine and Austria.
The association members are A. Sekeresh, V. Hrabar, R. Dorozhkina, L. Buchyna, L. Bobalyk, M. Baleha, H. Hrenko, S. Pishkovtsii, T. Sofilkanych, K. Turianchyk, N. Rybar, T. Rybar, O. Metzher and others. Most of them have secondary and higher education.