SMALL LUVER" ART SCHOOL IN UZHHOROD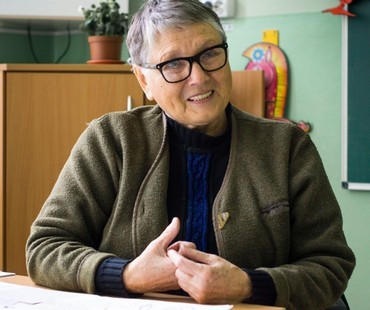 A creative youth association "Small Luver", which became known far beyond Transcarpathia and raised a whole pleiad of young talents, has been already working in Uzhhorod for 17 years.
Since 2000 the founder, constant leader and lecturer of this unique art school has been a well-known Transcarpathian artist and pedagogue Emma Levadska. Firstly, it was an experimental studio under Regional Museum of Local History, which later was turned into a true centre of children's artistic creativity. For some time "Small Luver" worked within the Transcarpathian Regional Art Museum named after Y. Bokshai and now it is situated in the building of the Uzhhorod secondary school No. 3. The name of the association was meant to be half humorous and motivating. It echoes with the world famous Louvre Museum, as if showing the way to creative heights. The main goal and objective of "Small Luver" is the revelation of creative makings in children aged 5 to 13; development of imaginative and associative thinking, imagination, fantasy; artistic and aesthetic education; learning different art techniques by non-standard author`s methods. Classes are held twice a week.
Here one can always feel freedom of creativity and improvisation, lack of conventional boundaries and prejudices, respect for individual perception of the world. Amazing is also a variety of artistic genres, which the students of association are engaged in. They are painting, drawing, applique, decorative and applied arts, installation.
In general, under the tactful and inspiring leadership of Emma Levadska, "Small Luver" was a start in creative life for more than a hundred of its graduates. Most of them continued getting the education at Uzhhorod College of Arts named after A. Erdeli, Transcarpathian Art Academy as well as Art Schools in Lviv and Kyiv. Some of the association members received complete art training in Poland, Austria, Scotland, Israel. Among the members of "Small Luver" there are a lot of scholarship holders of international funds, owners of the Grand Prix and winners of creative competitions, participants of regional, national and international exhibitions.
More than 30 association graduates are still involved in creativity and work in art. Among them are Andrii Khir, Vasylyna Burianyk, Kateryna Hanchak, Danylo Kovach, Heiza Derke, Artur Klovan, Inna Beskid, Andrii Hlyvka, Tetiana Kolchenko, Ivan Dranchak, Oleksandr Halimurka, Nadiia Kis, Kateryna Malko, Petro Svaliavchyk, Mariia Zharii, Yan-Pavlo Roman, Maryna, Maziukevych, Volodymyr Serhachov, Anna-Mariia Roman, Daniella Kovalenko, Andriana Kharkhalis-Nebesnyk, etc.