MEMORIAL HOUSE-MUSEUM OF FEDIR MANAILO IN UZHHOROD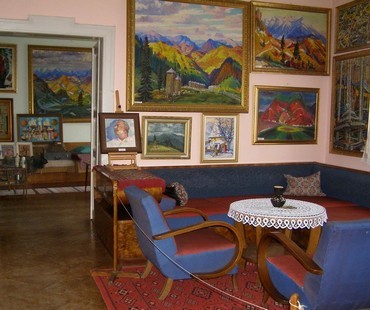 Since 1981 the memorial house-museum of People`s Artist of Ukraine Fedir Manailo has been open for all admirers of the great artist in Uzhhorod, 74, Druhetiv street.It is here where for more than 30 years a famous coryphaeus and founder of the Transcarpathian school of painting lived and worked. The magical Manailo's atmosphere is felt from the entrance hall where the walls are decorated with old photos. Inside there are several spacious rooms. Two rooms – lounge and studio – were left in such a state as it was during the artist's life. Other rooms redesigned into exhibition halls. Everywhere there are neatly hanging canvases painted by the master in various periods. Here is the easel where the master seems to be working recently and blurred with paint clothes of Manailo. In general, at the memorial museum there are about 2000 exhibits, including more than 170 paintings.
It is known that the creative heritage of the artist is large and varied: paintings, graphics, scenery, monumental painting, book illustrations. He is an artist of the theatre, scene, cinema. That's why there is a lot of letters, things and books about it. Here is the antique walnut furniture, the design of which, by the way, was made by the artist himself. But almost in every room there are a lot of famous Manailo's decorated melons. It seems that they are everywhere – on the wall, in the cupboard, on the shelf. As he is the only Transcarpathian artist who for almost ten years of his creative life was engaged in the decorative and applied folk arts. A special kind of melons, their decoration, coloration – these secrets were known only to the master. During the life F. Manailo made almost 1 000 decorated melons, a few handed out to his friends, some - to the museums of Ukraine. And at the house-museum there are only 40 of them.
However, more interesting details about the life and work of Fedir Manailo you can learn by visiting the memorial museum, which is headed by Viktoria Manailo-Prykhodko - an artist and granddaughter of the prominent master.