"Grain. Art of True Photography" by Illia Popovych and Dmytro Shakhaida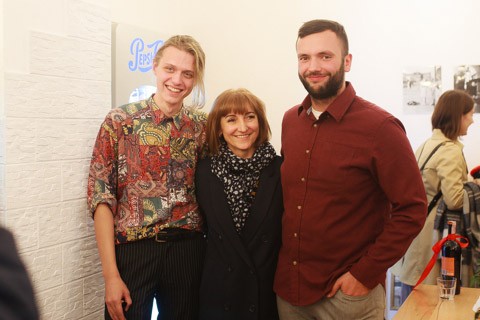 On 1 October 2018, at Tree Espresso Bar in the very centre of Uzhhorod, it was opened an exhibition of works by two young photographers Illia Popovych and Dmytro Shakhaida under the title "Grain. Art of true photography". With help of black and white photography, young artists presented their author's vision of their native city, its present as well as the understanding of place in space and time.
There are 12 photos in total, as well as two collages of small cuttings and photos. Each of the authors presented their works. The uniqueness of the exhibition is that all presented photos are printed manually using film on a photographic enlarger.
Illia Popovych was born in Uzhhorod in 1996. He studied at the Kyiv National Linguistic University. He got interested in photography about four years ago, and for almost a year he has been experimenting with analogue photos. He says it is incredibly interesting! "All these photos were taken on film, printed with my own hands. Just imagine: home laboratory, old equipment, we are experimenting and that's the real miracle!" Illia told. "This is all – the so-called street photography, mostly abstract shots taken with double and long exposure."
According to the photo artist, the main idea of the exhibition was to return the art of photography to Uzhhorod – namely, film, analogue, which is now very popular all over Europe.
Dmytro Shakhaida – Illia's peer and friend. They studied together in Uzhhorod and then Dmytro entered the Transcarpathian Academy of Arts. He has been fond of photography since his childhood and then, four years ago, he began studying film photography. "The theme of my work is a street-photo, as Illia's. In general, when we started shooting on film, we almost gave up digital photos," Dmytro said. "What is interesting, when we have been already working in this direction, it turned out that there are numerous people in Uzhhorod, who are still working with film, but for some reason do not want to or are embarrassed to show these works. But we really like to print photos ourselves, it's magical when the whole process – from beginning to end – is under your control."
The exhibition of Illia Popovych and Dmytro Shakhaida "Grain. Art of true photography" will last until 13 October.
Photos provided by the organizers